For the next month, we'll be spring cleaning the easy way with our Spring Cleaning Made Easy series! The goal is to get the whole house clean — one mini task at a time — without having to set aside a whole week, or even a whole day, to clean.
Whether you have a dedicated pantry or just make do with various cabinets and drawers, it's important to regularly sort and rotate your pantry inventory to be sure nothing goes to waste, and today we're going to do just that!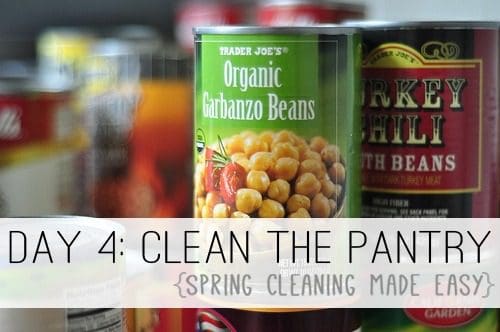 Bonus Task: If you have a formal dining room or china cabinet, today would be a great day to pull your china out and clean the place settings as well as the cabinet itself.
If you have the time and space, start by emptying out your pantry onto the counter or kitchen table so that you can thoroughly vacuum and wipe the shelves and cabinets. Once that area is clean itself, you can start reorganizing and putting things away:
Divide your pantry space into zones. Think about the types of food you regular keep in your pantry and separate them into zones that make the most sense to you. You might separate cans, breakfast foods, baking ingredients and snacks. Or you might keep all of your prepared foods on one shelf where they're easily accessible and put jars/cans/mixes on another. See how I organize my pantry here.
Get rid of excess packaging. Take individual snacks out of their various boxes and packages and put them in an open basket instead. Remove the plastic wrapping from any bulk purchases. And combine open packages of rice, beans, etc. in a jar or container with a tight lid. Eliminating that extra packaging will make your shelves feel neater and more organized.
Arrange food so that it's easy to see. Turn cans so that you can see their labels. If space requires you to keep things in front of each other, put the larger items in the back so they're easier to see.
Keep the ingredients you use more frequently at eye level and easily accessible. There's no reason you should have to dig through the canned caviar that you're saving for a special occasion every time you need to get to the flour and sugar!
Be willing to declutter. If you have canned or packaged foods your family is realistically not going to eat before they expire, go ahead and create a bag or box to take to your local soup kitchen or community drop off. There's no point in wasting the food or the space when other families would happily use those same items!
TIP: Like with your fridge, you can keep your pantry organized by taking the time to straighten it each week before you put new groceries away.
Track your progress this month with the Spring Cleaning Made Easy checklist, which comes in two versions — one with dates to coincide with the live series and one with generic labels so you can do it on your own at another time. Click here to download or print your copy!
Want to get a jump start on tomorrow's task? Go ahead and start working on your cabinets, drawers and the remaining appliances.

Do you keep a pantry stockpile? What was the most surprising thing you found in your pantry?