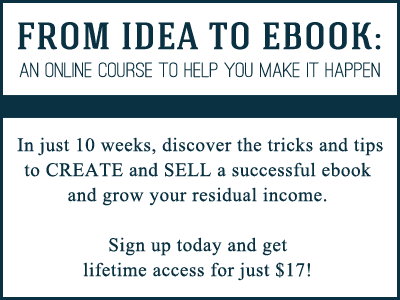 For many people, actually writing enough words to fill an ebook isn't the issue; choosing a topic that they want to write about and will sell well is.
Although I'm always kind of thinking about potential ebook topics, blog series and business ideas, I don't often sit down and try to force myself to come up with an idea; instead, I toss around possibilities as I go about my daily life, as I'm responding to reader comments or answering emails or reading blog posts on other sites. This kind of organic brainstorming tends to work best for me, but we've also talked about other methods of brainstorming in this week's From Idea to eBook module.
In Module 2, which is all about choosing an ebook topic, we also cover:

The importance of having both expertise or experience and passion about a topic
Ways you can evaluate the potential market for an ebook
How — and why — you need a unique selling proposition
And the elements of a good title and subtitle as well as a step-by-step plan for getting there
And More
This week we also released additional printables — including a title & subtitle worksheet, a keyword research planner and a brainstorming topics questionnaire — as well as a new video about deciding how broad or how specific your topic should be.
If you haven't signed up yet, it's not too late to join us: Register today and get lifetime access to all 10 modules, the set of case studies, all of the printables and the resource lists for $17!
Where do you do your best brainstorming? Do you have an idea for an ebook that's just begging to be written?