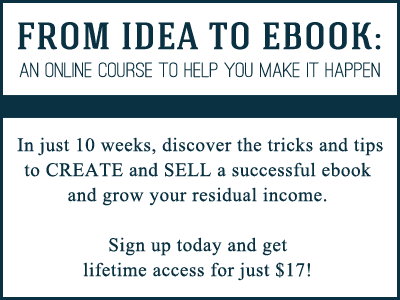 Once you write an ebook, how do you decide where you want to sell it? Should you make it available for sale on your website or list it exclusively with Amazon? How exactly do you sell an ebook on Amazon anyway?
In Module 6, we're talking about the different formats and outlets available for selling your ebook including:
The pros and cons of various sales platforms
How to sell an ebook directly on your site
What you need to know about converting your ebook for different formats
Answers to common questions about piracy, DRM and copyrights
If you haven't signed up yet, it's not too late to join us: Register today and get lifetime access to all 10 modules, the set of case studies, all of the printables and the resource lists for $17!
What is your preferred format for purchasing ebooks for yourself?