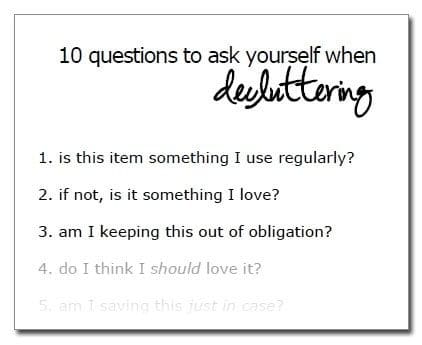 The hardest part about decluttering for most people isn't the time or effort it takes. Instead, it's simply making the decision to let go of something that you've been holding onto for some reason or another.
Earlier this year, I shared 10 questions that you can ask yourself to help you declutter, and today I'm making those questions available in a printable card format. Post it on your bulletin board, carry it in your cleaning caddy or keep it in your pocket for help making those tough decisions.
The question cards print four to a page, so keep the extra for when your original copy gets worn or share them with friends and family who are on this decluttering journey as well. Good luck!
Click here to view, print or download your decluttering questions.
Or get all of the Life Your Way printables in a single download when you buy the complete download pack for just $7! The complete set includes all printables published to date, organized by folder within a single download. It also includes free monthly email updates with any new or updated printables in a single download as well. Read more about download packs here.