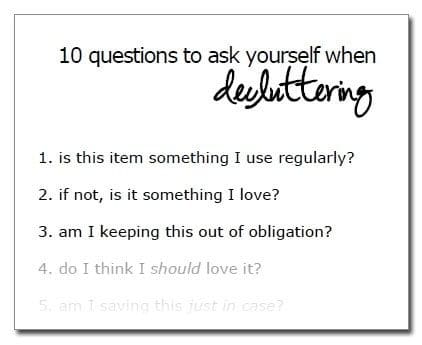 The hardest part about decluttering for most people isn't the time or effort it takes. Instead, it's simply deciding to let go of something you've been holding onto for some reason or another. Therefore, I am sharing a secret to make decluttering easier – 10 questions to ask yourself when decluttering.
Earlier this year, I shared ten questions that you can ask yourself to help you declutter, and today I'm making those decluttering questions available in a printable card format. Post it on your bulletin board, carry it in your cleaning caddy or keep it in your pocket for help making those tough decisions.
Using the questions
When you have some spare time to tackle that closet that is so full it is hard to close the door, use the card to help you decide what to do with the contents. You may want to have several bins labeled: keep, the room it should go in, toss, give to the thrift shop, etc. Asking yourself these ten decluttering questions will make the job easier and less painful. Of course, you may have to have another bin labeled "can't decided yet."
Once you are done decluttering that closet or room, you will wonder, "why didn't I do this sooner"!
The question cards print four to a page, so keep the extra for when your original copy gets worn or share them with friends and family on this decluttering journey. Good luck!
Click here to view, print or download your decluttering questions.
Get all of the Life Your Way printables.   The complete set includes all printables published to date, organized by folder for easy download.