When young people live in their own home for the first time, they will have to furnish it. Additionally, many families have to replace their furniture after a few years, especially if it is damaged. So many furniture buyers are interested in finding a supplier of different types of quality furniture at affordable prices. Though the top furniture brands have well-designed products, they are often very expensive. The cheaper furniture is often not well designed and also not durable. So one of the best ways to get good furniture at an affordable price is by purchasing the furniture online from a business that also has an offline store. Sofas, tables, chairs, beds, and storage items are widely used in most homes, and some tips that will help you get the best deal are listed below.
Store
Increasingly furniture buyers prefer to purchase different types of furniture online to save time and money. While there are many furniture stores, it is advisable to check the prices and the variety of items available to get the best deal. Since shipping charges are higher for furniture than other items, purchasing multiple items from the same store is better. Many of the furniture stores will also offer a larger discount for orders which are of higher value. If the store stocks a very comprehensive range of products, it is easier to find suitable products and place orders.
Sofas and chairs
People spend most of their time sitting on the sofa or chairs at home, so they have to be replaced more often. The sofa is usually placed in the living room and is noticed by visitors to the home. Usually, the sofa is made from soft materials, so it is more likely to get damaged, especially if pets and small children are in the house. Depending on the preferences, the sofas are available in different materials like leather, fabric, and velvet. The size of the sofa depends on the seating capacity of up to four people. Similarly, there are different chairs like office chairs, rocking chairs, lounge chairs, and bean bags. Some people prefer to use stools and benches for sitting.
Tables
Tables are also a piece of essential furniture for every home. People are usually seated at the dining table while having meals. Though some families have round tables, rectangular tables are preferred in most families. Depending on the family size, a table of suitable seating capacity should be selected. Dining tables are usually sold as dining sets, with similar materials and designed chairs. Other kinds of tables are also used, like computer tables, study tables, dressing tables, coffee tables, bedside tables, and side tables. The tables are available in different materials like metal, wood, plastic, and glass.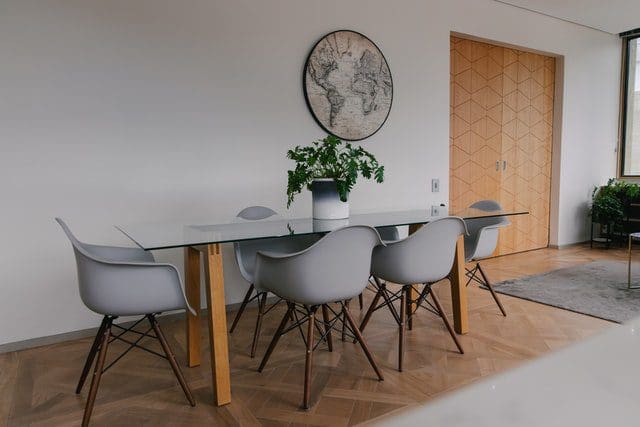 Other furniture
Most families will also purchase one or more beds when they move into a new home. Some of the variations in bed design include storage, headband, fold-able, divan, and sofa-type beds. For storage of the different items, cupboards, bookshelves, wall shelves, and drawers are required. The furniture should be selected based on the area available and home design.
Featured Image by khiem tran from Pixabay