As part of this year's 101 Days of Christmas series, I'm sharing a roundup each Sunday with more ideas from around the blogosphere!
Burlap has played a big part of our Christmas series this year, not just in the burlap projects I've made — like these easy burlap bows — but in the backdrop of pictures, etc. as well. Although I'm finally comfortable working with burlap (it's always intimidated me in the past!), I've really only tried the most basic of projects. However, there are tons of great ideas out there to try!
Here are 10 of my favorite ideas for incorporating burlap into your holiday decor:
Stamped Ornaments
Bird Ornaments
Garland
Burlap Stockings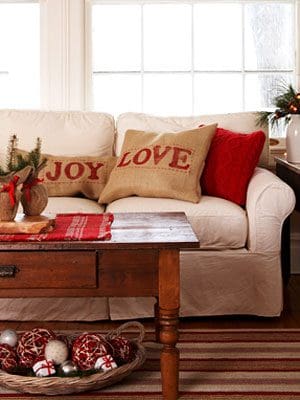 Do you like burlap for the holidays? Which is your favorite idea?
Join us as we celebrate 101 Days of Christmas with new DIY projects, gift ideas, traditions and more every day from now through Christmas!