DIY projects that come with a "simple and easy" promise don't always deliver, but I have to say that this project may be my favorite ever because it was not only simple and easy (truly!) but also turned out amazingly well.
Photo canvases are such a fun home decor trend — and we have given all of our parents a canvas print of our family at one time or another — but they're also fairly expensive. While these canvases don't turn out exactly like the printed canvases (since you're mounting the picture rather than printing on canvas), they still turn out beautifully, and it's a fun alternative to sticking a photo in a regular picture frame!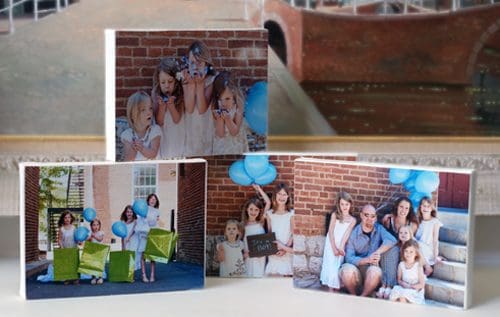 Supplies:
*I used matte photos and didn't run into any issues with the photos bleeding, but I have not tried this with glossy photos!
**I've always used foam brushes with Mod Podge, but I couldn't find any when I was ready to start working on this project, so I used a dry sponge instead (just a basic, cheap sponge), and I actually liked it much better. It was stiffer and didn't absorb as much glue, which made it easier to regulate how much went on with each application.
Directions:
You can leave the sides and edges of each canvas white or paint them, but you need to decide which you prefer before you start on the other steps. If you paint the edges, be sure to let it dry thoroughly before you apply the Mod Podge.
Use your foam brush or sponge to spread a thin layer of Mod Podge across the front of your canvas. Carefully position the picture and adjust it as needed before smoothing it in place with your hand to remove any air bubbles.
Use your brush to add another layer of Mod Podge over top the picture, spreading the glue from side to side. Make sure to go beyond the edges on all sides to help seal those down.
The goal here is to not only to seal and protect the picture but to actually add texture as well. One coat may be enough, but if you want to add more texture, be sure to use multiple thin coats rather than one thick one so that the glue can dry thoroughly between coats to prevent it from getting sticky.
That's it! Be sure to let the glue dry completely before stacking or wrapping the canvases.
Related Projects:
Join us as we celebrate 101 Days of Christmas with new DIY projects, gift ideas, traditions and more every day from now through Christmas!