I love Valentine's Day, and this year we'll be Finding Cupid through crafts, treats, printables and more, with plenty of opportunities for other bloggers to share the things they're doing in daily link parties. And be sure to download the free Finding Cupid ebook!
We had so much fun creating "snowy windows" last year, and I had been looking for a similar idea for Valentine's Day. I came across a cute pom pom version on Pinterest but since nothing says "Valentine's Day" quite like conversation hearts, I decided to try making my own version with this popular candy.
The result is a colorful, fun addition to our family room. When the vents are blowing, they start spinning around, which just adds to their charm!
And it's a super easy project too!
Supplies:
1 bag large conversation hearts
string or dental floss
hot glue gun
strong tape
Directions:
Start by deciding how many strands you'll need and cutting your string or floss in varying lengths to fill the space.
Lay out your first string and lay your conversation hearts next to it (words facing down) at regular intervals. I didn't want mine to be lined up, so I used between 6-9 conversation hearts on each strand to create some variation.
Carefully take your hot glue gun and add a dab of glue to the back of each heart. I did up to 8 at a time, but you have to work quickly so that it doesn't harden. Then lay the string over the center of each heart, carefully pulling down on the ends so that it "cuts" into the glue for a secure hold.
Once the glue is completely dry, hang the strand on the window. The first time we did this, our strands slipped out of the tape (they're on the heavy side!), so I'd recommend wrapping the string loosely around the tape so that it can't slip out. Tape in place on the window frame.
Repeat until you're done!
More DIY Decor
For even more DIY projects, visit My Blessed life, where Myra is sharing a great roundup of Valentine's Day decor inspiration!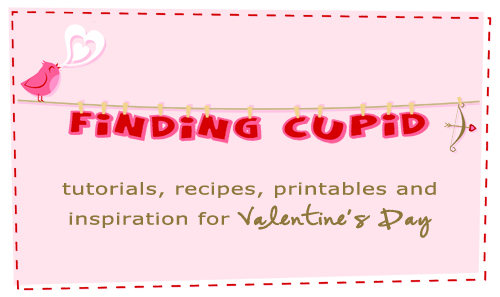 Share your projects below. If you're a blogger, click the blue Add your link button to add your post to Inlinkz. If you're not a blogger, we'd still love to have you play: share the description of your project in a comment below and click the +Image link to upload a picture!
document.write(");