As I showed you a couple of weeks ago, we have one really messy drawer in our kitchen. It's not that it's especially full or cluttered, but because there are no dividers, the stuff just gets really disorganized from use.
We have dividers from Ikea in our silverware drawer, and my plan has always been to get another set for the kitchen tools, but I also really love how Martha Stewart uses wire mesh baskets (#1) as well as the very cool DrawerDecor products (#3), which aren't yet available for sale but seem like a really great solution!

1. Mesh Baskets | Martha Stewart
2. Chrome Spice Rack with Glass Jars | Organize.com
3. Adjustable Custom Organizers | DrawerDecor
4. Cereal Box Organizer | Lifehacker
5. DIY Custom Organizers | Complete Organizing Solutions
6. More DIY Custom Organizers | Brown Paper Packages
7. Expandable Drawer Organizer | Totally Bamboo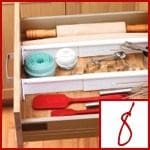 8. Expanding Drawer Dividers | Progressive International
9. Custom Drawer Insert | Decorating is Bliss
How do you organize your kitchen drawers?