The following post is from Jessica of GoodCheapEats and LifeasMOM:
Easter is just around the corner. And for many of us, this weekend promises to be one filled with family and church events, a few hard boiled eggs, and hopefully, a feast or two.
If you're just now thinking about Sunday's meal plan, don't despair. Breakfast to the rescue! Well, brunch, actually. Brunch is so very forgiving and so make ahead. And since we call it brunch, not breakfast, you can serve it for at least half the day. No rigid time frames.
5 Tips for Planning a Brunch
1. Think about recipes that can be made the night before or frozen in advance.
2. Plan for a variety of flavors, textures, and tastes.
3. Keep food allergies in mind. (Four of the recipes below are gluten-free.)
4. Offer at least one egg, one bread, and one fruit item.
5. Serve it buffet-style.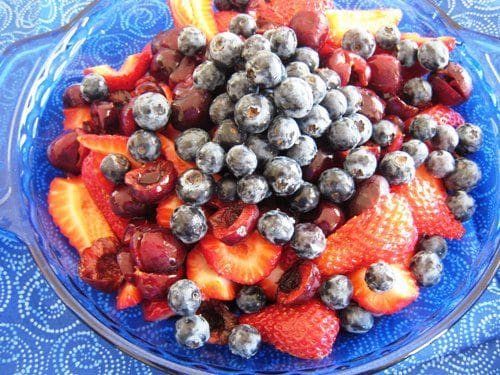 A Make Ahead Menu
I've put together an Easter Brunch menu that can be almost completely made ahead. And if you have a well-stocked pantry, you'll find that you probably have most of the ingredients already.
I've done the planning for you, you just need to run by the store today or tomorrow and put together this feast.
Easter Brunch Menu
Groceries to buy:
orange juice
plain yogurt
feta cheese crumbles
cottage cheese
swiss cheese
milk
butter
eggs
frozen raspberries
frozen spinach
fresh fruit, like strawberries, kiwi, pineapple, berries
limes
flour
whole wheat pastry flour
quick oats
baking powder
baking soda
salt
vanilla
yeast
peanut butter
sugar
brown sugar
powdered sugar
coconut cream concentrate
cardamom
cinnamon
pearl sugar (optional, but pretty)
milled flax
honey
chocolate chips
Steps to Make It Easy
The night before if you can:
Prepare the dry mix for the muffins.
Mix the cinnamon roll dough and prepare the rolls. Cover and store in the refrigerator.
Stir up both the egg casserole and the oatmeal. Cover and store in the refrigerator.
Assemble the smoothie ingredients in the blender bowl and refrigerate.
Layer the fruit salad ingredients, but do not stir.
Set up your buffet table.
The day of:
Bake the cinnamon rolls and cool.
Mix up the muffins and bake. Cool the muffins on a rack.
Bake the egg casserole and the oatmeal.
Meanwhile, glaze the cinnamon rolls and muffins
Set out the fruit salad, rolls, egg casserole, and oatmeal.
Blend the smoothies.
Brunch is served!
What do YOU do to make holiday meals delicious and easy?
A foodie at heart, Jessica Fisher has learned to reconcile a tight budget with her love for great food. As a busy mom of six voracious eaters, she regularly shares healthy, delicious and budget-friendly recipes at GoodCheapEats. She also writes at her parenting blog, LifeasMOM.