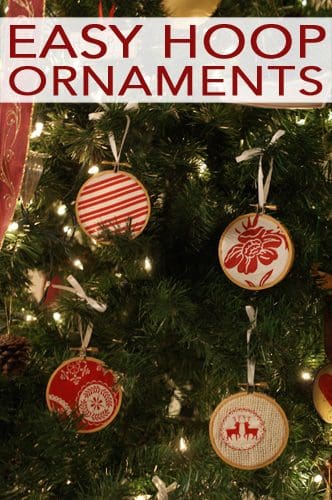 We're rounding out the 101 Days of Christmas series with a few easy, last-minute projects, and I'm pretty excited about today's handmade ornament.
A few months ago, my grandmother sent the girls a whole bunch of embroidery supplies — hoops, cross stitch kits, embroidery thread and more. Among the treasures were a bunch of 3″ wooden embroidery hoops, and I quickly set them aside because they're the perfect size to make ornaments.
Earlier this week, I went through my fabric stash, pulling out coordinating red and white fabrics plus a piece of burlap, and I love the way this set of ornaments turned out. So easy to make (literally just minutes each), but I think they're so pretty!
Supplies:
3″embroidery hoops
fabric
scissors
needle & thread (optional)
Directions:
Trace the outside of the hoop onto your fabric and cut out. Secure fabric between the two hoops and tighten the outside hoop as much as possible.
Optional: Cut out felt or fabric appliques and sew in place with needle and thread. Or, if you want to get really fancy, use embroidery thread to add a name or monogram to the ornament.
Thread ribbon or twine through the embroidery hoop's clasp and tie in a knot or bow. Hang on the tree!
Related Projects:
Join us as we celebrate 101 Days of Christmas with new DIY projects, gift ideas, traditions and more every day from now through Christmas!