Paper plate crafts are crafts that you can do as a class or with a group of kids because they are fun, cheap, and don't require any specialist equipment. The designs and craft ideas can be easily adapted to and included in your own personalized messages, names, or photographs.
Paper plate craft ideas for kids and preschool pupils are a great way to help kids learn about art and craft, learn about their world, or simply have a good time. Paper plate crafts require little to no preparation before you start. That way, you can keep your craft supply bin stocked up with materials in bulk (paper plates, pipe cleaners, etc.), and materials can be used again and again over a period of time. Another benefit to paper plate crafts is that there is rarely any property damage involved during the making process.
Follow this article if you want to learn more about the ideas for paper plate crafts. Here you will know the benefits, ideas, materials, and different methods of making them.
Benefits of Paper Plate Crafts for Kids
Crafts can be a great way to pass the time in the real sense and have fun at the same time, especially if your children are very young.

One of the biggest benefits of making crafts with paper plates is they're cheap. You can find paper plates at any grocery store for a low price and most dollar stores next to you. The best part is that you can have hours of fun without spending a lot of money.

Another benefit is that these crafts are very easy to make, i.e., to put together. Making a paper plate craft doesn't take a lot of your time or skill, so even kids can participate completely in fun.

Paper plate crafts are also great for helping kids learn new ideas. The more you work on projects together, the more your children will learn about different things, like shapes, colors, and art. This will help them become smarter and get ready for school.

Crafting is a fun activity for kids to do on rainy days or when they have a few extra minutes in their day before going to sleep. Crafting teaches children how to be creative and imaginative at once. It helps them use their imagination and even teaches them some new skills.

Finally, it can't be over-emphasized that the best thing about paper plate crafts is that they're fun. Making crafts with your kids is a great way to bond and spend quality time together while creating something new at the same time. If you'd like to try making some crafts with your kids, here are some ideas that you can try:
Here are some ideas that you can try with your kids:
Animal Crafts
Paper plate animal crafts for kids can be made in many different ways. You can use paper plates to make a dinosaur, clown, bird, and even a monster craft. Just cut out the shapes from the paper plates and stick them together with glue to make a cute animal. Paint them with watercolors or crayons after sticking each cut-out part together to give them their final look.
Flower Crafts
Making flower crafts is easy too. All you will need is a paper plate, scissors, and glue sticks. Cut out petal shapes from the paper plates, stick these petals together to form different flowers, and stick these flowers on a paper plate to complete your craft piece. The flowers can be painted with any color of your choice, and voila. Do this, and you will have yourself a pretty flower craft.
A Paper Plate Mask
What looks more interesting than an animal mask? Make a mask using an old paper plate and just add some color to it with crayons or watercolors if you want and gum them. 
Materials You Might Need
The exact materials you will need depend on the particular craft you want to make. The best part is that all the possible materials you might be needing to make these paper plate crafts are easy to get and, at the same time, are all inexpensive. Here is a list of materials you may need:  
Empty Paper Plate

Paintbrush

Paint (red, blue, and yellow work best)

Scissors

Paper plates

Tissue paper

Ribbon and marker
It is a great craft for kids to make that can be used as a decoration on their bedroom wall or a great gift idea. These paper plate crafts for kids are very simple and easy to complete, making them great for younger children.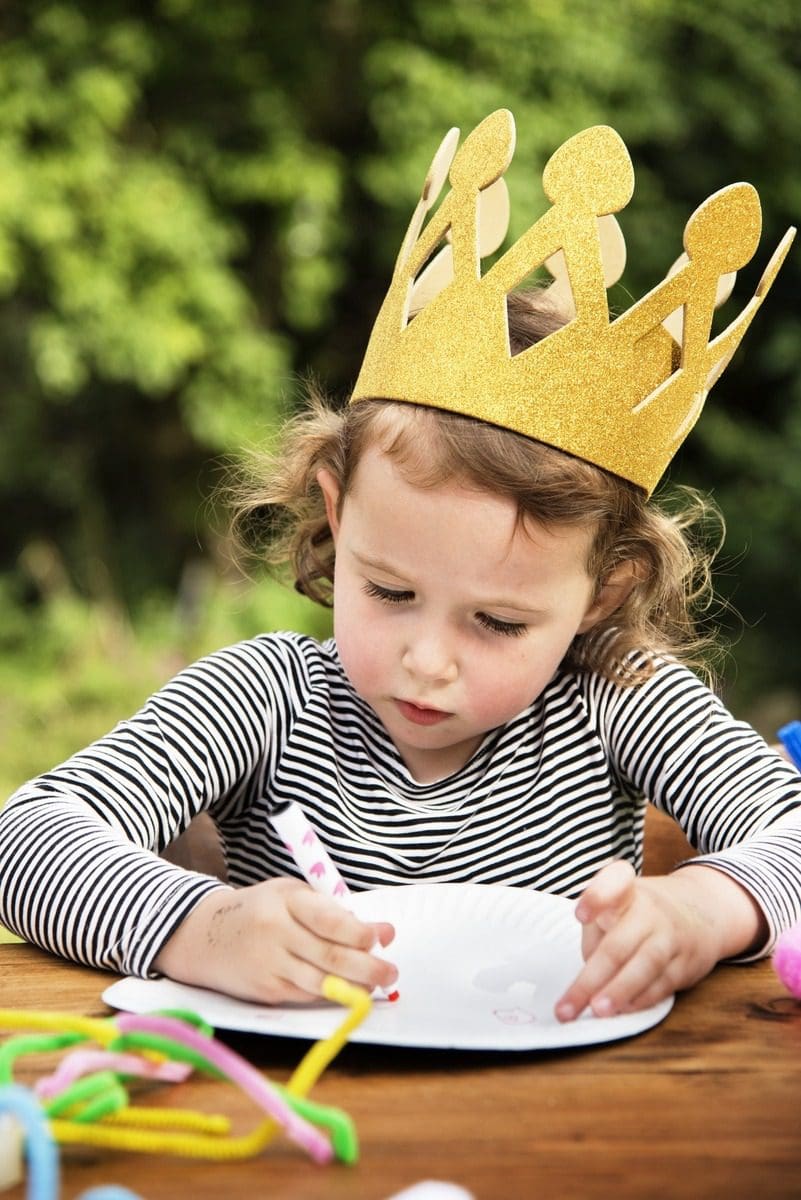 Methods of Decorating Paper Plate Crafts
There are several different ways in which you can use paper plates for kids' craft projects, and here are some:
Decorate paper plates by drawing, painting, colorfully designing, and pasting pictures from magazines of your likes on them.

Cut paper plates into various shapes and sizes to form different designs.

Use paper plates as a base for collages. Mix and match different colored papers and let your child create their collage. It might be the best paper plate you come across.

Use paper plates for constructing models. Kids can build houses, cars, airplanes, animals, etc., using them as their base material.

Cover the entire surface of paper plates with glue or paste so that they become sticky on one side. Let your child arrange small colored objects like sequins, buttons, and beads on these plates to make beautiful designs.
Conclusion
Whether you are doing a preschool theme or not, if you need a simple art project or want to have fun with your kids, paper plate crafts are great for everyone, and you can try that today. They are easy and inexpensive. Children can make these crafts alone with minimal to no help from adults, and the results will be very rewarding.
Finally, crafts don't have to be complex to be fun. In fact, some of the most enjoyable crafts are the simplest. That's because simple crafts allow children to use their imagination and creativity while crafting something they can hold onto in a game of show-and-tell. Paper plate crafts are a great way to start your creative kids' crafts.
Featured Image by rawpixel.com