Gluten-Free Chocolate Halloween Cut Out Cookies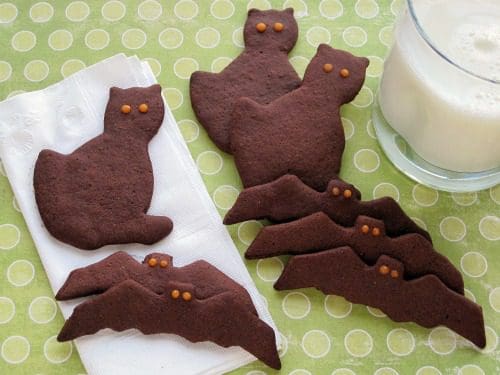 ½ cup unsalted butter, at room temperature
½ cup non-hydrogenated vegetable shortening
⅔ cup powdered coconut palm sugar (see note below)
1 large egg
1 large egg yolk
1 teaspoon vanilla extract
2 cups Amy's Basic Gluten-Free Flour Blend
¾ cup cooca powder
¾ teaspoon xanthan gum
¼ teaspoon kosher salt
1 tablespoon water
1 tablespoon milk (regular or dairy-free)
1 tablespoon Just Whites powdered egg whites
¼ teaspoon vanilla extract
1 cup erythritol
1 tablespoon arrowroot powder
red and orange India Tree natural food coloring
Preheat the oven to 350F. Line two baking sheets with silicone baking mats or parchment paper.
Beat the butter and the shortening in the bowl of a stand mixer fitted with the paddle attachment on medium high speed until light and fluffy. Scrape down the bowl as needed.
Add the powdered palm sugar and continue to beat until fluffy.
Beat in the egg, egg yolk, and vanilla extract.
Sift together the flour, cocoa powder, xanthan gum, and kosher salt.
Add the flour mixture to the mixer bowl and mix in on the lowest speed until thoroughly combined. Scrape the bowl as needed.
Transfer dough to a sheet of waxed paper and wrap completely. Refrigerate for 30 minutes or until chilled.
Roll out half of the dough between two sheets of parchment paper dusted with cocoa powder or on a silicone pastry mat with a sheet of waxed paper on top.
Cut out desired shape with a cookie cutter dipped in cocoa powder.
Carefully coax the cut outs away from the mat with an offset spatula or thin metal spatula. Place on prepared baking sheets. Re-roll scraps until all dough is used.
Bake smaller cut outs for 8 minutes and larger cut outs for 12 minutes. Let cool for several minutes on baking sheet then transfer to a wire rack to cool completely.
In a small bowl, whisk together the water, milk, Just Whites, and vanilla extract until the egg white powder is completely dissolved.
Put the erythritol and arrowroot powder in a VitaMix and whirl on high until it becomes a very fine powder.
Add the powdered erythritol to the egg white mixture in 3 - 4 additions.
Add 2 - 4 tablespoons of water as needed to achieve the desired consistency. Err on the side of making the frosting too thick as it will thin out slightly when food coloring is added.
Take ¼ of the frosting and transfer it to a small bowl. Mix in red and yellow food coloring to achieve desired orange color.
Put the colored frosting in a ZipLoc bag and snip off a tiny corner.
Pipe eyes onto the cookies. Allow to dry.
Remaining frosting can be refrigerated or frozen for future use.
Recipe by
Life Your Way
at https://lifeyourway.net/gluten-free-chocolate-halloween-cut-out-cookies/