Apple Oatmeal Crumb Muffins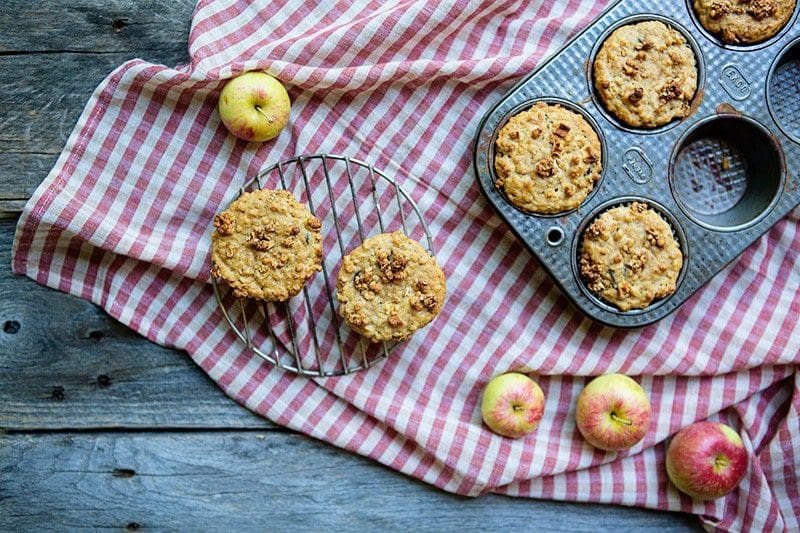 2 cups rolled oats
1 cup milk
3 tablespoons melted butter
⅓ cup + 2 tablespoons maple syrup
1 large egg, lightly beaten
1 teaspoon vanilla extract
1 cup + 1 tablespoon all-purpose flour
1 tablespoon baking powder
1 teaspoon cinnamon
¼ teaspoon grated nutmeg
¼ teaspoon cardamom, optional
¼ teaspoon salt
¾ cup diced apple
In a large bowl, measure out 1¾ cups of rolled oats. Add the milk and stir to coat. Allow to rest for 30 minutes.
Preheat the oven to 350ºF. Line 12 muffin cups with paper liners.
To the soaked oats, stir in the butter, ⅓ cup maple syrup, egg, and vanilla. In a separate bowl, stir together 1 cup flour, baking powder, cinnamon, nutmeg, cardamom, and salt. Add the flour mixture to the wet ingredients, stirring just until mixed.
Add in the apples, and stir to combine. Fill muffin cups ⅔ full. Mix together the remaining oats, maple syrup, and flour. Sprinkle the mix over the top of the muffins.
Bake for 20-25 minutes, until muffins are golden brown on top and the centers are set. Cool slightly before serving.
Recipe by
Life Your Way
at https://lifeyourway.net/apple-oatmeal-crumb-muffins/