3-Ingredient Chocolate Peanut Butter Banana Ice Cream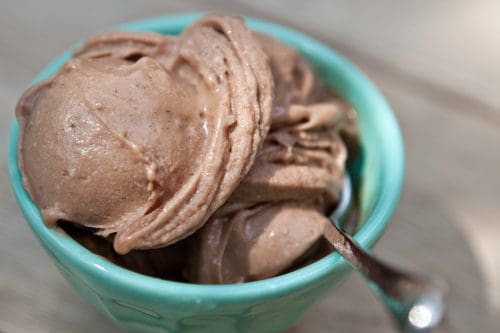 4 ripe bananas, cut into chunks
2 tablespoons peanut butter or nut butter
1 tablespoon chocolate chips
Cut bananas into 1-2" pieces and freeze until stiff. To make the ice cream, melt the chocolate chips and peanut butter together in a small saucepan, stirring frequently. Remove from heat and allow to cool slightly.
Add the frozen banana chunks to a food processor. Pour the peanut butter and chocolate mixture over the top. Pulse and blend until smooth. Serve immediately.
These can be made ahead and refrozen. It will lose some of the soft-serve texture, but it is still soft and able to be scooped.
Recipe by
Life Your Way
at https://lifeyourway.net/3-ingredient-chocolate-peanut-butter-banana-ice-cream/