The following post is from Shaina of Food for My Family and Olmanson Photography:
Each year I fight the fall. I think because the transition from full-blown summer to crisp autumn is my favorite time of year, I'd rather just freeze time, which leads me to resent when the overnight temps drop below 40º F. I sit and wish I could prevent winter from arriving, and yet it always comes anyway, no matter how long I attempt to live in denial.
This year I'm just going to embrace the season fully. I pulled out my leather boots and my sweaters, and I headed off to the orchard many weeks earlier than I actually feel like going. I stored apple pies in the freezer, put up tomatoes so they'll be there when the ground is frozen, and yes, I even started roasting pumpkins.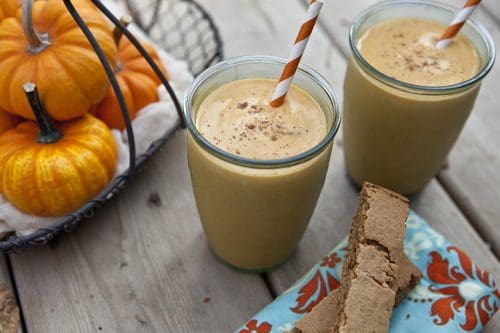 If you like so many others I know, love pumpkin spice to rule your autumn days, this smoothie is for you. It's still cold, as the weather hasn't completely turned just yet, but it reminds us that autumn is indeed here and winter is coming.  Smoothies are super easy.  Just throw all the ingredients in a blender, blend, pour, and enjoy.

Author:
Shaina Olmanson | Food for My Family
Ingredients
1 cup ice cubes
½ cup pumpkin puree
½ ripe banana
½ cup plain yogurt
¼ cup milk
1-2 tablespoons honey (depending on banana ripeness and personal preference)
¼ teaspoon vanilla extract
¼ teaspoon ground cinnamon
18 teaspoon ground ginger
pinch of:
ground cloves
allspice
ground nutmeg, plus more for garnish
Directions
Place the ice cubes, pumpkin puree, banana, yogurt, milk, honey, and all the spices in a blender. Blend until smooth.
Pour into glasses and garnish with fresh grated nutmeg, if desired. Serve immediately.
Notes
If you use sweetened, vanilla flavored yogurt you can omit the vanilla extract and use less honey. You can also substitute maple syrup for the honey if you prefer.
What are your favorite things to make with pumpkin?
Featured Image by alex C from Pixabay
Shaina Olmanson is the freelance writer, photographer, and home cook behind Food for My Family. Cooking daily with and for her four kids and husband, Ole, drives her desire to inspire other families to do the same. Shaina is also the author of Desserts in Jars and contributes regularly to a variety of online sites and traditional print magazines.