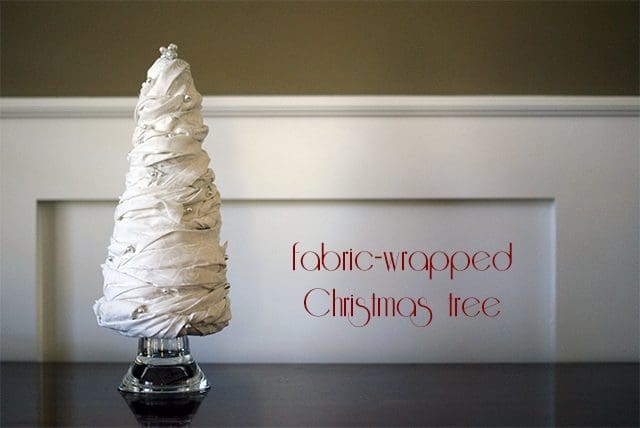 We've wrapped styrofoam trees in burlap, covered them in cupcake liners and feathers, coated them in glitter, and stuck gum drops in them, so it only seemed fair that we try wrapping them in fabric this year!
It took me a couple tries to get this just right, but I love how it turned out, and you could easily choose fabric in any color to match your Christmas decor.
The key to this project is to embrace the imperfections and randomness of the fabric and the twists. If you're type-A like me, that is very, very difficult, but consider it a good opportunity to stretch and grow!
Supplies:
8″ styrofoam cone
2 fat quarters (in the same pattern)
floral pins (or push pins)
glass candle holder
Directions:
Cut each fat quarter into four strips. (I cut them along the long edge because they were already creased that way, but you could do it the other way if you want longer, thinner strips.)
Fold the end of the fabric under and wrap it around the top of the tree. Twist the fabric strip a couple times and pin the twist in place. Continue wrapping, twisting every couple of inches.
When you get to the end of the first strip, twist a new strip around the first one, pinning through both strips, and continue wrapping.
At the bottom, tuck the edge under and pin in place.
Add a small ornament, a star or a group of floral pins to the top of the tree.
Set the tree on an upside down candle holder to display.
Join us as we celebrate 101 Days of Christmas with new DIY projects, gift ideas, traditions and more every day from now through Christmas!