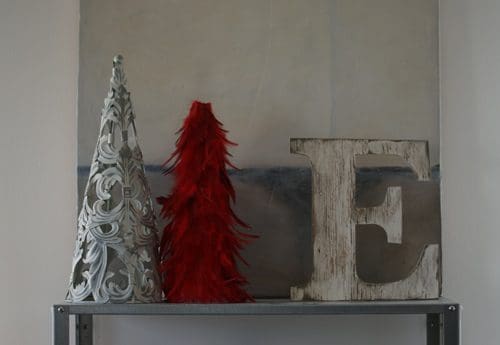 This feather tree makes me smile!
As I told a friend this morning, it's red and a little bit funky, which makes it a perfect fit for my office!
It's also super, super easy to make, so you could have a few made by this evening if you wanted. I think it's so pretty, and you can get feathers in so many different colors to make trees that match your decor. What I loved most about these feathers was that they have a few dark streaks…not on every feather and not too heavily, which adds some nice detail!
Supplies:
feathers
styrofoam cone
white glue
wrapping paper or spray paint, optional
Directions:
If I do this again, I will definitely cover the cone, either with matching spray paint or paper, before adding the feathers. It turned out fine without any covering, but you can see the white of the styrofoam from certain angles, especially at the bottom of the cone.
Or you could use white feathers and it wouldn't matter!
Starting at the bottom of the cone, begin gluing feathers around the cone. Work up from there until the whole cone is covered. Use a couple small feathers to cover the top of the cone.
Variations: Add a star to the top of the tree.
For more DIY decor, be sure to download the FREE Handmade Holiday ebook!
Join us as we celebrate 101 Days of Christmas with new DIY projects, gift ideas, traditions and more every day from now through Christmas!