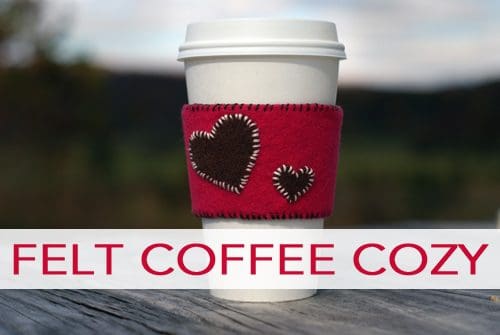 Isn't this felt coffee cozy so much fun? And the best part is you can customize it with any shape or design — white snowflakes, a Christmas tree, an apple for a teacher, embroidered names, etc.
It's also a really easy project. While I like the look of the hand-sewn edges, they don't need to be perfect, so even a beginner can handle these stitches. And if you really want to avoid needle and thread, you could switch to fabric glue instead!
Supplies:
embroidery thread
needle
scissors
fabric glue
Directions:
Use the coffee sleeve template to trace and cut two layers of felt. (I used pink on the outside and brown on the inside.)
Cut out the shapes for your design.
Place your shapes on the outside piece of felt and pin them in place. Stitch around the edge of each shape to secure it in place. Tie the ends on the backside when you're done.
Pin the two layers of felt together and shape them like a coffee sleeve. Insert both layers of the flap between the layers on the wide end. You'll stitch through all four layers to secure them in place.
Stitch around the top, and bottom edges of the felt with a simple whip stitch.
When you're done stitching, use fabric glue to glue the end of the felt down on the back.
Variations:

Give your coffee cozy some flexibility by cutting off the end flap and adding a button to one end and an elastic band to the other.
Glue the edges instead of sewing them.
Use the template to cut out coffee sleeves from festive scrapbook paper for a holiday party.
Related Projects:
Join us as we celebrate 101 Days of Christmas with new DIY projects, gift ideas, traditions, and more every day from now through Christmas!