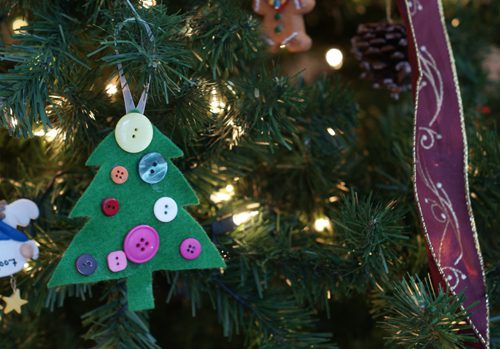 One of my favorite Christmas activities is to make ornaments with my girls. My main goal when searching for ornament ideas is to find very easy projects that they will really enjoy making — rather than those projects where Mom does most of the work while the kids watch! — and these are definitely one of my favorites.
Decorated with buttons, these felt Christmas trees are easy enough that even 2 and 3 year olds can help make them!
Supplies:
green felt
buttons in a variety of shapes/sizes/colors
ribbon
white glue
Directions:
Cut out the Christmas tree shapes and lengths of ribbon ahead of time.
Set out a wide assortment of buttons. For younger children, add a couple of dots of glue to their tree at a time for them to stick their buttons to; older kids will be able to make their own glue dots.
Press buttons down firmly and let dry.
Glue a ribbon loop to the back of the ornament and let dry.
Variation: For a more involved project, glue or stitch two Christmas trees together and fill with stuffing before decorating with buttons!
Join us as we celebrate 101 Days of Christmas with new DIY projects, gift ideas, traditions and more every day from now through Christmas!