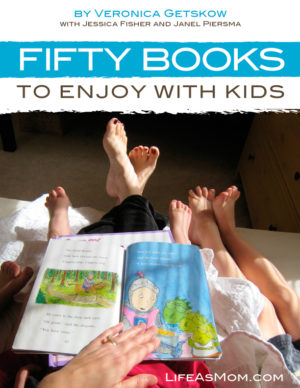 Reading is an important part of our family's culture, and I love children's books. We have hundreds of them, with no plans to declutter our collection any time soon, and I dream of having an extensive home library, not just for our children, but for our children's children as well!
However, as our kids get older, I've realized that I've been neglecting some of our favorite younger books in favor  of more advanced topical and chapter books for our older girls. My goal this year is to make sure our reading time includes plenty of both so that the little girls get to enjoy the same stories their big sisters did as preschoolers.
Enter Fifty Books to Enjoy with Kids, a new reading guide from Life as Mom, written by Veronica Getskow, PhD with daughters Jessica and Janel.
It provides titles and book information for 50 "must-reads", including Blueberries for Sal, Frog and Toad Are Friends, Horton Hatches an Egg and 47 other favorite books!
This guide details extension activities to take each story farther — to play together, to explore together, and to enjoy the novelty of a great book.
Fifty Books to Enjoy with Kids offers parents a reading program for young children, those who are often left out of library and bookstore programs. Preschoolers are people, too! But the stories listed will appeal to readers of all ages.
You'll also find fun printables, like printable reading logs, bookmarks and awards. (Please note that this is a reading guide, so it does not include the books themselves, just resources for enjoying them with your littles!)
For this week only, Fifty Books to Enjoy with Kids is priced at just $5 for the PDF or Kindle version.
This post contains affiliate links, but as always, all opinions are 100% mine.