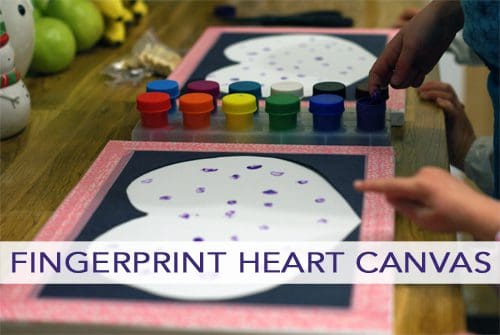 When baby girl and I were working on our updated handprint calendar ideas, I fell in love with the fingerprint heart, so we decided to make a bigger version featuring all of the girls' fingerprints this time.
Any project that calls for paint is popular in our house, and the girls had a lot of fun doing this. It was interesting to see their personalities in the way they made their fingerprints too. The baby was actually the most careful about how she made her fingerprints, while our eight-year-old tried to do it at supersonic speed, resulting in a few smears. And our third daughter got bored halfway through, so I finished the pink fingerprints for her!
The result is a painting that's nowhere near as perfect as it would be if I'd done it by myself, but it's beautiful in its imperfection!
Supplies:
blank canvas
construction paper
painter's tape or masking tape
poster paints
Directions:
Start by folding your construction paper in half along the long side to cut out a symmetrical heart. Center it on your canvas and tape in place.
Use various color paints to create fingerprints within the heart area, then strip off the construction paper and tape.
Variations:
If you have several kids, assign each child their own color paint.
Carefully apply the construction paper and tape and leave it as a frame.
Paint a verse or dedication on the canvas to go with the heart.
Related Projects:
Join us as we celebrate 101 Days of Christmas with new DIY projects, gift ideas, traditions and more every day from now through Christmas!