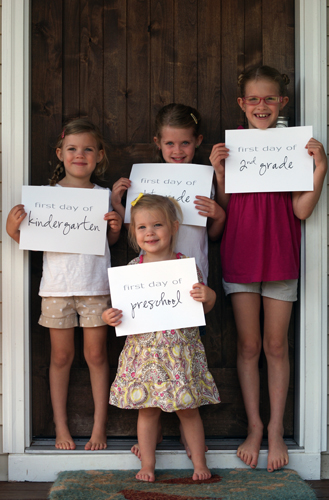 On Monday and Tuesday, my Facebook news feed was filled with first day of school pictures as our area schools and fellow homeschoolers started the new school year, and I was happy to contribute with our own first day of school pictures.
I love taking pictures on the first day of school because we're not trying to rush to get somewhere like we are on holidays, and we typically take them right after breakfast when everybody is most cooperative.
This year's picture session went amazingly well, and we got some really cute shots. I wanted to share those with you (what mama doesn't like to show off her kids?!) and also a peek into our first week of school:
And here's last year's as a comparison:
Here are their individual pictures, which I think turned out so well, especially because of the height comparison since they each stood against the door:
Several people asked me if our signs were available as a printable, and so I put a full set together, which you can download or print here.
Our annual porch swing pictures are also among my favorite:
And I especially love this one because of the similarities to the same shot from 2011:
Saying "kiss the sister on your right" always produces the funniest reactions as our oldest and third daughter turn to opposite rights, our second daughter pauses to figure out which side is right and the baby just does her own thing:
Here's a look at some of our school time as well:
The biggest challenge is keeping our three-year-old occupied. I'm going to need a few more "busy bags" to rotate through:
Our focus this year will be on our timeline and map. We'll be adding elements from history, science, math, geography and literature to both to create a visual picture of when and where things happened. I found this great world map that can be printed on multiple pages, but I had no idea taping it together would be as difficult as it ended up being. Thankfully I got it done (although it's far from perfect), so we're looking forward to filling it in throughout the school year:
How did the first day of school go in your home?