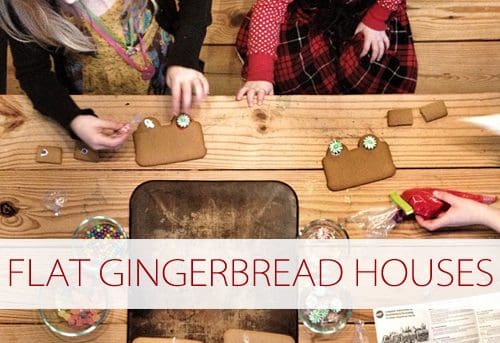 We actually saved this activity for after Christmas last year so that we could buy a kit on clearance (because I'm frugal cheap like that), but we ended up having so much more fun than our previous attempts at gingerbread houses that I had to share this tip.
I'm pretty sure we're not the only people who have trouble getting gingerbread houses — at least those from a kit — to stay together, especially while you're poking and prodding them to add decorations. Maybe it's the ages of our children or my own lack of coordination, but they always end up messy and falling apart. It's still a fun activity, so it's one we repeat each year anyway.
However, last year — after several attempts to get our gingerbread train to stay together — we decided to just decorate the pieces on a flat surface, and it was so much more fun! Without the worry about it falling apart, everybody was able to decorate their piece exactly as they wanted, and then we lined them all up in a row for a longer train when we were done.
Because it worked so well, this year we're planning to do a flat gingerbread house and lay out the pieces to make a little village. It'll take up a little more space, but that's okay!
Does your family decorate gingerbread houses each year? What's your best tip?
Related Projects:
Join us as we celebrate 101 Days of Christmas with new DIY projects, gift ideas, traditions and more every day from now through Christmas!