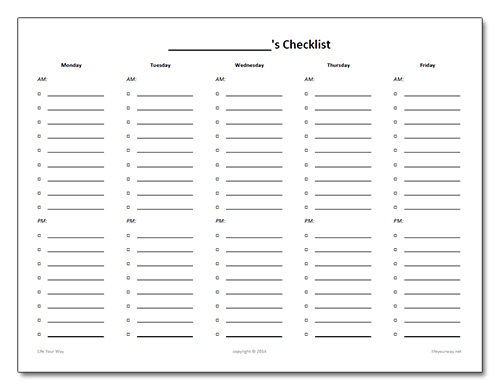 Earlier this month, I shared a screenshot of the checklist my girls have been using for their school work (as part of my "Homeschool Planning Made Easy" post), and a few people emailed to ask if it was available as a printable. So today it is!
Click here to download or print the homeschool checklist. You can print out the blank planner or fill it in and save it on your computer first.
I've also been wanting to put together a proofreading marks cheat sheet for my girls, and I'm really happy with how this one turned out.
A few months ago, we were having trouble with the girls getting upset when I'd ask them to correct the mistakes in their daily copy work. I asked on Facebook, and quite a few people recommended using proofreading marks to mark the mistakes instead, and — amazingly — that worked! They now hand me their notebook. I add any marks to it and then hand it back, telling them how many I've made so they can search for them and make corrections.
Note: Because my goal is to help them find and correct their mistakes rather than do it for them, I have made a few adjustments to the traditional marks editors use. Rather than inserting a period, for example, I just draw a circle for any missing punctuation so they can figure out what's missing. Similarly, SP traditionally means "spell it out" and is used for abbreviations that should be spelled out. Still, we use it for spelling errors so that they can figure out the correct spelling for the word rather than me making the corrections for them!
Click here to download or print the proofreading marks cheat sheet. 
Looking for other homeschooling printables? Here are some others in our collection: