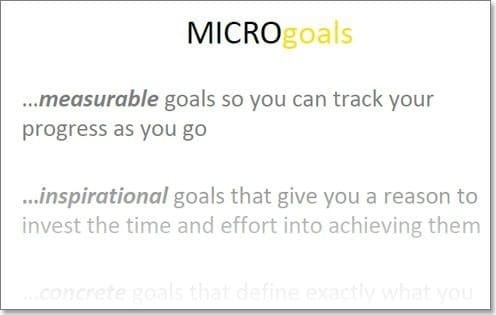 Setting MICRO goals is an important part of actually achieving your goals. It's easy to set a big-picture goal such as "lose weight" or "get a new job", but walking through the process of setting measurable, inspirational, concrete, realistic, obtainable goals is a little bit harder.
If your goal is to lose 20 pounds within 12 months. That is a worthwhile goal. However, choosing a micro goal of losing 1.5 pounds each month becomes more attainable. You will get discouraged looking at the big goal of 20 pounds over 12 months. If you have a smaller goal of 1.5 pounds per month, you can stay on track to meet your ultimate goal. You still have the final goal of losing 20 pounds.
Goals can weigh us down when looking at the long-term and not seeing many short-term results. This way, having short-term micro-goals makes the ultimate goal more attainable.
Micro-goals are small steps leading to the final goal. It keeps you focused on today's goal. You see progress. If you don't see any progress, you will get discouraged and give up because the final goal seems too far away. Micro-goals help you stay focused and motivated. Meeting your mini-goals each month brings satisfaction. You can see that you are making progress.
The printable micro-goals chart will help you set mini-goals toward your ultimate goal.  It is a guide to help you set goals that you can measure. Set rewards for yourself when you meet a mini-goal.
This handy little pocket printable can be printed onto sturdy cardstock and then tacked to your bulletin board, tucked inside your planner, or stuck to a mirror to remind you to create MICRO goals that you can work toward and achieve.
They print four to a page, so be sure to share the extras with a friend or coworker!