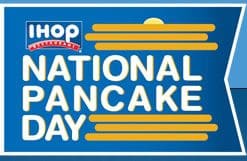 Next Tuesday is National Pancake Day at IHOP, and all guests get a FREE short stack of pancakes. In exchange, they ask that you consider making a donation to Children's Miracle Network.
I've mentioned before how much this organization means to our family, and I can't think of a better combination than FREE pancakes and supporting CMN!
My mom will be here visiting from Florida, so we're planning a special pancake lunch while she's here.
See you there?