I'll admit that fresh cherries aren't something we buy often because they're on the expensive — and messy — side, but when we do, we enjoy every bite! This year I'm inspired to try some of these delicious cherry recipes. As a huge fan of rice pudding (my grandmother just made me some this week!), I'd love to try the vanilla cherry coconut risotto (#4), and the pecan coconut cherry granola (#5) is calling my name too!
Here are 9 more delicious cherry recipes, everything from refreshing drinks to healthy breakfasts and rich desserts:

1. Poached Cherries with Ricotta | Martha Stewart
2. Cherry Almond Crumb Bars | Food for My Family
3. Cherry Ice Cream with Chocolate Chips | Simply Recipes
4. Vanilla Cherry Coconut Risotto | Healthy. Happy. Life.
5. Pecan Coconut Cherry Granola | Tartelette
6. Cherry Limeade | Joylicious
7. Fresh Cherry Mascarpone Waffles | Coconut & Lime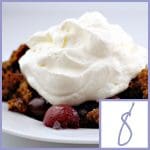 8. Gluten-Free Cherry Blueberry Crumble | Elana's Pantry
9. Cherry Berry Plum Water | Live. Laugh. Make something.
What's your favorite cherry recipe?