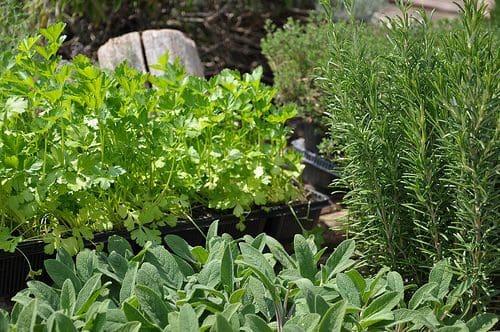 I've said this before, but I'm constantly in awe of how God created so many herbs and plants that really meet our body's needs. Things like seasonal foods that meet our nutritional needs (such as oranges and squash in the winter with their abundance of vitamin C) and herbs and spices that strengthen our immune system (like cinnamon and ginger).
To be clear, I don't think there's anything wrong with taking advantage of medical advancements. We have a pediatrician we love, our third daughter was delivered by emergency c-section and I highly respect the medical professionals I know (and even those I don't!).
That said, when a simpler solution is available, I think it's wise to take advantage of it. Herbal remedies or natural medicine — when used properly — generally have fewer side effects. And they're often (but not always!) cheaper. As an added bonus, they're definitely better for the environment as well.
I'm really excited to share some of the things I'm learning with you, but before I get into what our natural medicine cabinet looks like, let me tell you a bit about our story:
My Story
I come from a fairly typical middle-class American family, and I didn't really grow up questioning the status quo. In fact — gasp — I even gave our oldest daughter Benadryl to help her sleep on several cross-country flights when she was a baby.
However, before her first birthday, the FDA changed its recommendation to say that over-the-counter medicines should not be given to children under 6 years old.
To be honest, I balked at first. I remembered having Triaminic as a kid, and I wasn't about to withhold relief from my children when they were sick.
But I started paying attention and noticing that those medicines really didn't seem to be helping my little ones that much, and so eventually we just stopped giving them. Better safe than sorry, right?
What's Really Safe?
Fast forward a few years and I happened to come across the FDA hearings about Tylenol — a drug that many of us would have considered one of the safest and most commonly used on the market — and the danger it posed in moderately high doses to people of all ages. We were still giving our kids pain relief and fever reducers as needed, but those conversations really made me take a hard look at what we were putting into their bodies.
Then, two years ago, our entire family — including our then 6-week-old — came down with the swine flu. I stayed up night after night with the baby — first with the flu, then with croup — and then when we were all on the mend, our second daughter (who seems to be prone to such things) came down with a secondary respiratory infection. She spent night after night coughing violently in my bed while I did my best to monitor and comfort her. We finally gave in a tried a cough suppressant, and all it did was make her heart beat too fast for my comfort.
And that was it. I gave up over-the-counter medicines (save for an occasional dose of ibuprofen) for my children for good!
Information Overload
I began reading Kitchen Stewardship (where Katie is on her own journey, but certainly ahead of mine) and a year or so ago, I joined a group of bloggers on Skype who have now become some of my closest friends. Among the very diverse group were two women — Alyssa from Kingdom First Mom and Myra from My Blessed Life — who know a lot about natural health and are both very passionate about sharing what they know with others.
Through all of this, I've experienced many moments of perfection paralysis: Where do I start? What's the point of making one little change if I can't change everything? How do I know that I'm doing what's best for my kids?
It's taken me that long to really be at a place where I am ready to make the jump and begin putting things into practice. The key for me? Tiny baby steps, one at a time, and not beating myself up for not doing it right.
Baby Steps
Last month one of our girls came down with a random ear infection. She hadn't been sick, and we haven't dealt with a lot of ear infections, so I actually didn't even realize that's what it was until Sean came home with the diagnosis and a prescription for antibiotics.
I decided I was ready to take the plunge and pulled out Herbal Nurturing from Michele at Frugal Granola to figure out how to make garlic oil for her ear before we filled the prescription.
That night I made my first batch of garlic oil, and our 5-year-old screamed bloody murder when I dripped it in her ear. Anyone with a five-year-old girl will believe me when I saw it was her inner drama queen making her scream and not the garlic oil itself. I'm sure she would have preferred me to give her the yummy antibiotics instead, but I began reciting my mantra (perhaps as much to convince myself as to convince her), "Isn't it amazing that God made so many plants that we can use to strengthen and heal our bodies?"
It took a few days, but she adjusted to the treatment, even reminding me that she needed it before bed, and in the meantime, the pain began to fade overnight, disappearing altogether within a day or two. Along the way, my girls began to marvel with me at the wonder of Creation, and that small victory was enough to inspire me to continue to learn more about herbal remedies!
So that's a little bit about where I'm coming from. Join me next week as I share some specifics about the resources I'm relying on and the steps I'm taking to stock our natural medicine cabinet and change the way we approach health.
How do you feel about herbal remedies? Do you already have a natural medicine cabinet, or are you stuck in information overload and perfection paralysis?