I love birthdays- forget birthdays; we celebrate birth weeks or birth months here! — but the one challenge we face in creating fun yearly traditions is that three of our daughters have birthdays within three weeks of each other. That's a lot of celebrating!
We're slowly creating yearly traditions that are doable on that timetable. The girls all enjoy choosing their special birthday breakfast (often waffles with whipped cream and a candle on top!) and cake flavor (everything from banana cake with cream cheese icing to chocolate cupcakes).
We also do friend birthday parties on specific years (our plan is when they turn 5, 9, 13, 16, and then high school graduation), but on the off years, they're able to invite one friend over or out to eat or play with us somewhere, and I think they almost look forward to those years more than the full-blown parties!
Birthday Tradition Ideas
I recently asked some friends for their family birthday traditions as well and loved the list they shared:
"Streamers zig-zagged across their bedroom door when they wake up that they have to "run" through." ~ Tsh from Simple Mom
"Write happy birthday and year on car windows with window markers. Use special birthday plates to serve cake." ~Lori
"Going through their baby book with them the night of their birthday. My mom did this for us while we were growing up and STILL does it for us, if she happens to be around for any of our birthdays (even though we're 46, 43, and 38!) It's still super fun to see the pix and hear all the stories." ~Joanie
"Putting streamers up in their room after they fall asleep the night before their birthday. Homemade birthday banners on Costco butcher paper with block letters decorated by siblings. Siblings all signing up for the preparation process (cooking, cleaning, decorating) so everyone is invoked in the 'loving on'!" ~ Denise
"My husband loves to read Dr. Seuss' Happy Birthday to You." ~Heather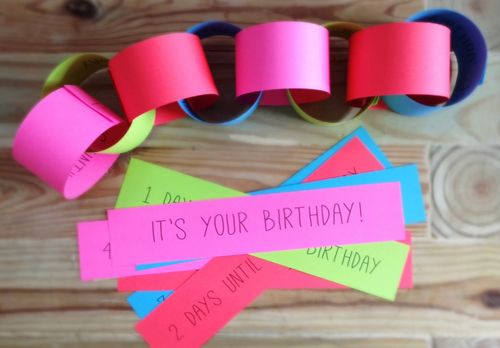 Another one of our favorite activities for any birthday or holiday is a paper countdown chain or a dry-erase countdown calendar on a window. Definitely, a fun way to draw out the anticipation and celebration!
With that in mind, I made this fun countdown chain for our second daughter's 7th birthday, which is in 15 days, and first thing this morning, she ran downstairs, "I get to take off a link now, right?!" Even though she knew it was 15 days until her birthday, she was excited to see the message inside, and I have a feeling that excitement will last through the next two weeks!
Click here to download or print the birthday countdown chain.
How do you celebrate birthdays in your family?