When you search "fun food" on Pinterest you get, well, this. To be honest, while I'd love to serve my kids those beautiful, artistic meals — or have someone else serve them to me! — it just ain't gonna happen. But I do like to make my girls giggle when they see what's for lunch, and I think fun food can make them more willing to try new things and say "I love you," all at the same time, so I look for easier ways to do this. Below are some of my favorite fun food ideas.
We don't really do Halloween, but Egyptian history and mummies are a hot topic around here, and I'm sure #6 would be a hit. And #8 is one of our favorites, using stars, hearts or whatever shapes we have on hand. What I'd really like to find, though, are small letter cookie cutters so they can have apples with their initials on them! My oldest was peeking over my shoulder while I worked on this gallery, and she's already declared that we must try #2, and a gluten-free version of #5 would be perfect for our Baby Girl's 2nd birthday!

1. Apple Sandwiches | Whole Foods Market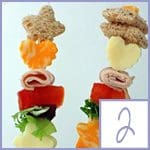 2. Sticky Stacky Sandwiches | Super Healthy Kids
3. Heart Kabobs | Parents
4. Portable Celery & Peanut Butter | Choose to Thrive
5. Crunchy Critters Rice Krispie Treats | Martha Stewart
6. Crescent Mummy Dogs | Pillsbury
7. Heart-Shaped Egg | Anna the Red
8. Apple Cut-Outs | Jewels of a Child
9. PB&J Blossoms | Family Fun
Want to see more? Be sure to check out my Fun Food board on Pinterest!
Do you serve "fun food"? What's your favorite fun food recipe?