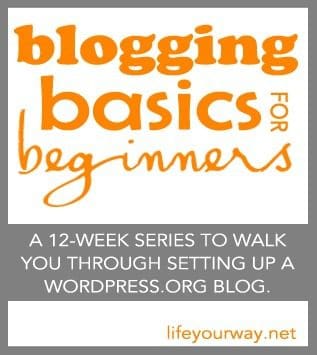 Blogging Basics for Beginners: A 12-Week Series to Walk You Through Setting Up a WordPress.org Blog will run every Thursday from August 30th through November 15th. Click here for all of the posts in the series.
If you've followed this series from the beginning, you should have a basic blog set up and ready to go. Hopefully you've created an About page, added a few things to your sidebar and have a basic idea of how to create posts and pages.
So what's next?
Get Ready for a Soft Launch
If you haven't already, I recommend that you start posting on your blog and do a sort of soft launch, where you quietly begin posting without really promoting your posts or the blog as a whole. Even though these posts won't be seen by many people right away, you should still do your best on them because many first-time visitors will spend time looking through your archives, and you want to give them a good idea of what they can expect from your blog.
Before you start promoting your blog, you should have at least 3-4 published posts, but it'd be even better to have at least 10 in the archives!
Make an Editorial Calendar
One of the best things you can do to show that you really take your blog seriously is to create an editorial calendar. This doesn't have to be a strict plan of every topic you'll post over the next six months, but you should have an idea of how often you'll post, the types of topics you'll cover (and how you'll split your posts between those various topics) and a list of post ideas that you can pull from.
Your editorial calendar will evolve as you go, so don't feel like you're writing it into law, but having a basic plan will help you blog consistently. Very few bloggers can get away with an erratic posting schedule and still grow their blog, so you'll want to be consistent!
Format Your Posts
Although the format of your posts will also evolve, it's a good idea to think through things like headings, colored text, picture format and more so that you can begin to create a consistent design that is unique to your blog. To be clear, you don't have to get fancy with this at all (in fact, I think simpler is often better), but you want to create a brand that your readers will recognize!
Create an Audience Profile
As a blogger, it's tempting to try to write posts that speak to everybody, but the truth is that your posts will have more impact if you write to specific groups of people without worrying about excluding others. Trust me, I know that this is easier said than done, but you really will find that more people will connect with posts that are specific and direct rather than those general ones that end up being watered down!
The best way to do this is by creating a profile of a fictitious blog reader including their age, family members, career, income, education, interests, etc. Then, write your posts as if you're writing specifically to this person rather than trying to write to all moms or all working women or all entrepreneurs. As hokey as it sounds, having an audience profile will help you focus your posts and bring more authenticity to your writing.
So…are you ready? I'd love to see what you've accomplished so far. Share your blog URL in the comments so we can stop by and say hi!