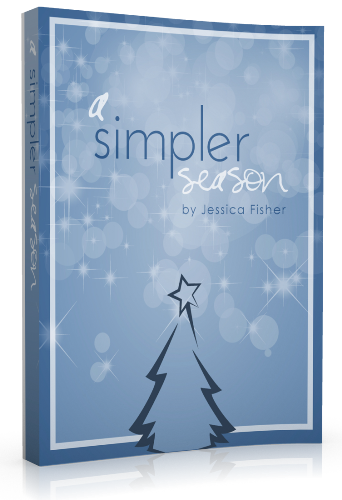 This giveaway is now closed! The winners are Maggie ([email protected]…), Gretchen ([email protected]…) and Shelia ([email protected]…)!
I'm privileged to call Jessica Fisher both a colleague and a friend, and I'm in awe of the amount of really great, practical, spot-on content she puts out for her readers!
You may know Jessica from one of her blogs, Life As Mom and Good (Cheap) Eats, as the host of our popular Eat Well, Spend Less series, as the author/editor for a number of popular ebooks (including Organizing Life As Mom and Fifty Books to Enjoy with Kids) or as the editor of the brand new cookbook, Not Your Mother's Make Ahead and Freeze Cookbook (which I truly love and has already become a staple in my kitchen!).
Jessica's latest ebook, A Simpler Season, is more than a Christmas planning ebook. It's a holiday-planning ebook that takes you from Thanksgiving, through Christmas, and all the way to New Year's to help you make the most of the holiday season with creative ideas, time-saving tips and budget-minded inspiration!
With over 200 pages of ideas, recipes, and printables, A Simpler Season includes recipes, to-do lists, children's activity sheets, planning pages, gift ideas, and step-by-step tutorials for creating homemade gifts.
You'll find:
creative ideas for celebrating Thanksgiving, Christmas, and New Year's
over 150 pages of content: ideas, recipes, and inspiration for planning a special holiday season with your family
70+ printable pages: calendars, to do sheets, inventories, and planning pages
games and activities to do with the kids
24+ family activity cards to print and do over the month of December
printable recipe and gift cards to help you make edible gifts
a variety of family devotional ideas to explore with your family
a list of children's books to enjoy as well as extension activities to do with your children after the reading
family-friendly recipes for the each of the winter holidays
questions to get you thinking about how you really want to spend your time this year
easy downloadable format in pdf or on kindle
Enter to Win
This week, Jessica is giving three lucky Life Your Way readers each a copy of A Simpler Season!
This giveaway is now closed!
This giveaway ends at 11:59 p.m. ET on Wednesday, 10/31. The winner will be selected randomly and notified by email, and this post will be updated with their name as well. Open to U.S. residents 18 years old and above. This post contains affiliate links, but all opinions are 100% mine!