This giveaway is now closed! The winner is Angie ([email protected]…)!
I've mentioned a few times that our family is just venturing into the world of essential oils. While we're 100% convinced about the benefits of natural, herbal remedies, essential oils feel a bit more "woo-wooey" to me, and I'm slowly learning more and incorporating them into our natural medicine cabinet as I learn more, hear about other people's experiences, etc.
If I'm honest, one of the things that's been holding me back is the cost. There are several companies that claim to be the "best", but their oils are very expensive and sold only through a MLM structure, which frankly makes me a little bit uncomfortable.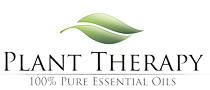 That's why I was thrilled to discover Plant Therapy, a company built around a belief in the power and benefits of essential oils. Plant Therapy was founded on one principle: providing the highest quality essential oils at a price that everyone afford so that they can be used in as many households as possible. They offer 100% pure, undiluted and therapeutic grade oils that are sourced from the top suppliers around the world and then pass them on to you at a low profit margin.
I am not yet an expert in essential oils, so I can't tell you for sure how these oils stack up against other oils, but here's what I do know:
These oils smell pure. There is no underlying bitter or chemical smell.
There is no oily residue left behind when you do a "paper test", where you put a drop of oil on a piece of paper and let it dry. Oily residue or staining would indicate that the oils contain fillers, but there's been no residue from the oils I've tested.
As the weather has been changing drastically from one day to the next over the past few weeks, I've been using peppermint on my temples for sinus headaches, and the Plant Therapy oils are at least as effective as the other brands I've tried.
Plant Therapy oils are guaranteed and certified as 100% pure and natural, of therapeutic grade and free from any chemicals or pesticides.
While we're still learning about essential oils, I'm excited to have discovered Plant Therapy. I appreciate their transparency about their business model and the sources of their oils, the quality of the oils I've used so far and the information and accessories they offer on their site!
P.S. Be sure to follow Plant Therapy on Facebook for additional giveaway opportunities and weekly discounts.
Enter to Win
This week, Plant Therapy is giving one lucky Life Your Way reader a copy of 500 Formulas For Aromatherapy: Mixing Essential Oils for Every Use, a Scent Ball Aromatherapy Diffuser and 14 pure Plant Therapy essential oils, including:
Sensual Synergy (Aphrodisiac)
Energy Synergy (Physical Energy)
Germ Fighter Synergy (Like Thieves)
Relax Synergy (Physical Relaxation)
Immune-Aid Synergy (Immune System Booster)
Tranquil Synergy (Emotional Stress Relief)
Invigor-Aid Synergy (Mental Invigoration)
Lavender (Lavandula Officinalis)
Peppermint (Mentha Piperita)
Eucalyptus (Eucalyptus Globulus)
Tea Tree (Melaleuca Alternifolia)
Orange (Citrus Sinensis)
Lemon (Citrus Limonum)
Cinnamon Bark (Cinnamomun cassia blume)
As an extra bonus for entering, Plant Therapy will have a special coupon code for everyone who enters, which we'll send via email after the giveaway closes. (Don't worry, we'll only use your email address that one time, and you won't be added to any lists!) Here's the fun part: The more people who enter, the better the code! So share this giveaway with your friends; if we get 250 entries, you'll find a pretty sweet offer in your inbox next week!
To enter, fill out the form below, or if it's not loading for you, click here to enter):
This giveaway ends at 11:59 p.m. ET on Sunday 2/17. The winner will be selected randomly and notified by email, and this post will be updated with their name as well. Open to U.S. residents 18 years old and above.