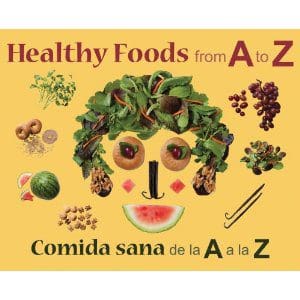 This giveaway is now closed! The winners are Maryla ([email protected]…) and Jennifer ([email protected]…)!
Healthy Foods from A to Z / Comida sana de la A a la Z, the latest book from Moonstone Press, LLC, is an adorable, bilingual book to introduce children to a wide variety of healthy foods as well as their ABCs in both English and Spanish.
Featuring colorful photographs of engaging faces made of fruits, vegetables and other common foods, this book was a hit with our kids as soon as we pulled our review copy out of its package. They loved flipping through each page to discover the various faces, trying to identify the food on each page and learning additional Spanish words.
The book also includes instructions for creating your own healthy food face, information about each of the foods included in the book and other "play with your food" activities that kids are sure to love!
Enter to Win
This week, two lucky Life Your Way readers will each win a copy of Healthy Foods from A to Z!
To enter, fill out the form below:
This giveaway ends at 11:59 p.m. ET on Wednesday, 8/28. The winner will be selected randomly and notified by email, and this post will be updated with their name as well. Open to U.S. residents 18 years old and above.