Getting Ready for the Holiday Season
As we get ready to turn the calendar page and officially jump into the holiday season (because, yes, I consider November and December—Thanksgiving and Christmas—one season!), I'm honestly feeling a bit overwhelmed!
I love pretty much everything about the holiday, but between now and early December. We always have so much going on. I hate going into the holiday season feeling stressed because I know all too well how easy it is to make the wrong decisions and prioritize the wrong things when I'm feeling that way.
Take this year's Christmas cards to the next level by customizing your cards with Mpix.com. With so many templates to choose from, you will find the perfect fit for your card. At the same time, you are ordering your cards, turn your card into a gift for the grandparents. My dog Sugar was married last year to her Shephard boyfriend. She now spends plenty of time with her in-laws when we travel out of town. Sugar decided to make a few unique gifts for her in-laws. She went with a coffee mug, key chain, magnets, a photo printed on metal, and personalized cards. I was amazed at how fast my order came and how great everything looked. Sugar can't wait till the in-laws open their gifts. Make your Christmas or any special occasion with a custom order from Mpix.
There are really two common traps that we all fall into at the holidays:
1. Trying to "do it all."
Our family has many fun traditions that we enjoy for Christmas—baking cookies for a cookie exchange and helping our church. Some people support others by ringing the Salvation Army bell, doing the Truth in the Tinsel devotional, Christmas Eve service at church, family get-togethers, cookie exchanges, etc. There have been years when we could do everything on the list, and there have been years when we could barely do any of it.
But what I've learned is that it's better to stick with just one or two particular things and not end up a stressed-out, uptight, grumpy mom than it is to try to do everything by the skin of my teeth. And sometimes that means disappointing other people and sticking with the most meaningful things for our family, like sleeping under the Christmas tree and drinking homemade hot chocolate while we watch Polar Express.
2. The temptation to shower other people with gifts.
The other trap we can fall into is over-giving. Generosity is a good thing; blowing your budget or going into debt over Christmas gifts is not! Believe me; I get it. I love to give gifts, and I love to pick out things that I know the other person will love, regardless of cost. But gifts add up quickly, and you don't want to be left with credit card bills and regret next year!
That means making a budget ahead of time and sticking to it! But it also means taking the time to think through all the expenses ahead of time so that you don't have surprises popping up throughout the season. (One of my favorite ways to stretch our Christmas budget is to pick up stocking stuffers or baking supplies, or small gifts each week out of my grocery budget.)
Great stocking stuffer and other gift ideas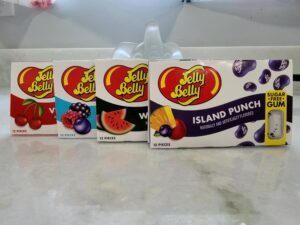 Jelly Belly Gum– why not keep the joy of jellybeans all year long with sugar-free gum. I had to try them out for my family. I found they had a great, long-lasting flavor for being sugar-free. I try not to give my children too much sugar, but I allow them to have gum on certain occasions. (Long car trips are the perfect time to provide them with a special treat like this) They enjoyed a sugar-free treat that tasted delicious. Suppose you kids are like mine and enjoy looking in their stockings more than more significant gifts. Treat them to something special.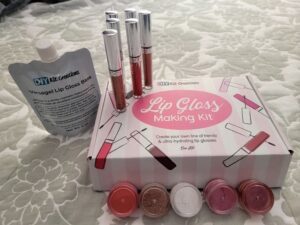 Lip Gloss making kit by DIY Kit Creations is a great gift idea for pre-teens and teenagers who love lip gloss. What is great about this kit, you control the amount of color in each gloss. It is hard to find the perfect shade that isn't too bold or light on your lips. The kit does come with odorless and tasteless lip gloss, but I add a few drops of citrus oil to give it flavor and taste. 
And, honestly, the best gifts don't have to cost a lot at all. There are meaningful handmade gifts like handprint calendars or a no-sew pocket scarf. There are opportunities to choose outstanding projects that allow you to spent time together and create memories over gifts that might just get forgotten or tossed aside.