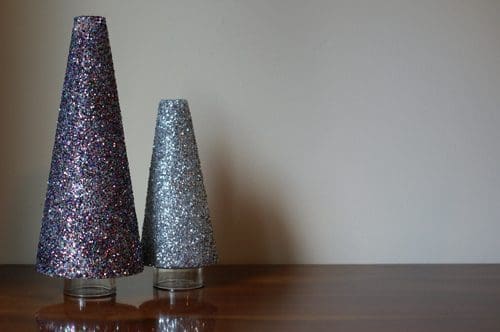 Looking for simple accessories to add to your holiday decor? If so, these glitter trees definitely fit the bill. They're easy to make and provide a fun and sparkly addition to a shelf, mantle or bookcase. With so many glitter colors to choose from at your local craft store, you can choose a color that matches or compliments your decor!
Supplies:
styrofoam cones
white glue
foam brush
glitter
clear tea light holders
scissors or an x-acto knife
Directions:
Begin by carving an impression in the bottom of your cone for the base. It should be at least 1/4″ deep and should fit tightly around the tea light holder. Add glue and carefully press the base onto the cone. Let dry.
Next, use a foam brush to cover the sides of the cone in glue. Sprinkle with glitter until it's well covered, gently pressing the glitter onto the surface. Finish by adding glue to the top of the cone and covering that with glitter as well.
Join us as we celebrate 101 Days of Christmas with new DIY projects, gift ideas, traditions and more every day from now through Christmas!