The following post is from Amy of Simply Sugar & Gluten-Free: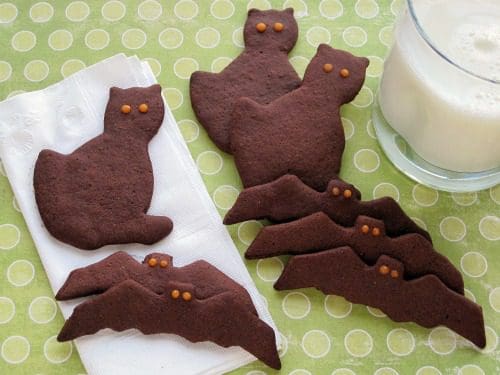 I love holiday food! I'm a total dork that way. If it can be made to fit a celebration, I get excited about creating it in the kitchen. I do find some holiday-esque recipes challenging, though, because they typically use some sort of royal icing or confectioner sugar based frosting. Neither of which work in my diet. So, I have to be a little creative and sometimes just accept that my desserts won't always look like mainstream food.
The other thing that I have to accept is that I'm a novice decorator. I was in my second semester of pastry school when I got pregnant with my first child. I decided to put school on hold and focus on being a mom. Really, if I could do anything in the world and not have to think about any other responsibilities I'd decorate cakes and cookies. I have dreams of decorating cakes alongside Bronwen Weber and Kerry Vincent. Bakerella does some pretty amazing things, too!
For now, I'm busy chasing a very energetic, loving toddler and wearing the sweetest two-month-old you've ever laid eyes on. When I'm making my holiday treats, thinking they're not quite as beautiful as I'd like them to be, I pause and remember that what I'm doing is so much more important than a beautiful cake. And, I think about the hours I spent decorating cookies with my mom when I was a kid. They're some of my favorite childhood memories. Soon my boys will be standing on a stool next to me in the kitchen decorating cookies too.
And, though they're not ornately decorated, they're tons of fun to make. Who doesn't love cut out cookies? Better yet, since they're light on the frosting they're healthier too.
If you want to make these cookies dairy-free, use Earth Balance or slightly chilled coconut oil instead of butter. If you use coconut oil, you'll want to make sure to work very quickly and keep your dough chilled but still pliable. Also, pop your tray of cut out cookies into the refrigerator to firm up for a few minutes before putting them in the oven.

Gluten-Free Chocolate Halloween Cut Out Cookies
Makes 2-4 dozen cookies depending on cookie cutter size.
Ingredients
For the cookies:
½ cup unsalted butter, at room temperature
½ cup non-hydrogenated vegetable shortening
⅔ cup powdered coconut palm sugar (see note below)
1 large egg
1 large egg yolk
1 teaspoon vanilla extract
2 cups Amy's Basic Gluten-Free Flour Blend
¾ cup cooca powder
¾ teaspoon xanthan gum
¼ teaspoon kosher salt
For the Decorator's Frosting:
1 tablespoon water
1 tablespoon milk (regular or dairy-free)
1 tablespoon Just Whites powdered egg whites
¼ teaspoon vanilla extract
1 cup erythritol
1 tablespoon arrowroot powder
red and orange India Tree natural food coloring
Directions
Make the cookies:
Preheat the oven to 350F. Line two baking sheets with silicone baking mats or parchment paper.
Beat the butter and the shortening in the bowl of a stand mixer fitted with the paddle attachment on medium high speed until light and fluffy. Scrape down the bowl as needed.
Add the powdered palm sugar and continue to beat until fluffy.
Beat in the egg, egg yolk, and vanilla extract.
Sift together the flour, cocoa powder, xanthan gum, and kosher salt.
Add the flour mixture to the mixer bowl and mix in on the lowest speed until thoroughly combined. Scrape the bowl as needed.
Transfer dough to a sheet of waxed paper and wrap completely. Refrigerate for 30 minutes or until chilled.
Roll out half of the dough between two sheets of parchment paper dusted with cocoa powder or on a silicone pastry mat with a sheet of waxed paper on top.
Cut out desired shape with a cookie cutter dipped in cocoa powder.
Carefully coax the cut outs away from the mat with an offset spatula or thin metal spatula. Place on prepared baking sheets. Re-roll scraps until all dough is used.
Bake smaller cut outs for 8 minutes and larger cut outs for 12 minutes. Let cool for several minutes on baking sheet then transfer to a wire rack to cool completely.
Make the Decorator's Frosting:
In a small bowl, whisk together the water, milk, Just Whites, and vanilla extract until the egg white powder is completely dissolved.
Put the erythritol and arrowroot powder in a VitaMix and whirl on high until it becomes a very fine powder.
Add the powdered erythritol to the egg white mixture in 3 - 4 additions.
Add 2 - 4 tablespoons of water as needed to achieve the desired consistency. Err on the side of making the frosting too thick as it will thin out slightly when food coloring is added.
Take ¼ of the frosting and transfer it to a small bowl. Mix in red and yellow food coloring to achieve desired orange color.
Put the colored frosting in a ZipLoc bag and snip off a tiny corner.
Pipe eyes onto the cookies. Allow to dry.
Remaining frosting can be refrigerated or frozen for future use.
Bonus: How to Make Powdered Palm Sugar:
Put 1 cup coconut palm sugar and 1 tablespoon cornstarch in a VitaMix. Mix on high until it reaches a fine powder consistency. Store in an airtight container before using. It has a tendency to clump when stored. Sift before using.
Other Halloween Ideas:
What's your favorite time of year to bake?

A stay-at-home mom, wife, and passionate cook, Amy strives to make each meal healthy and delicious. When she's not doing laundry, dishes, or caring for her son, she plays around with food in the kitchen developing new recipes, which she shares at Simply Sugar & Gluten-Free. Amy also publishes The Balanced Platter and authored the book Simply Sugar & Gluten-Free: 180 Easy & Delicious Recipes You Can Make in 20 Minutes or Less.