This is a Sponsored post written by me on behalf of White Cloud for SocialSpark. All opinions are 100% mine.
One of the most frustrating aspects about "going green", at least to my cheap self, is the cost! You could easily  double your household budget on green changes, and so many of those expenses are merely trendy rather than actually necessary.
Instead of viewing green living through the trendy lens (which can be tempting because so much of what's trendy is trendy because it's cute!), I prefer to view it through the simple living lens. With a few exceptions, going green should fit a frugal, minimalist lifestyle. (The most notable exception being in food choices, such as fair-trade chocolate, organic produce and grass-fed meat.)
For example, reusable lunch containers are a green alternative to disposables…but the frugal option is to make your own.
In other cases, the green option involves an upfront investment — like glass storage containers — but those will hopefully last well beyond their plastic counterparts.
As our family has moved to a simpler lifestyle, going green has been a natural byproduct of that. We buy less stuff in general and opt for things that last longer when we do shop. Our goal is really more about living simply, without waste, and inspiring our kids to do the same. And as we learn throwback skills like cooking from scratch, repurposing household items instead of throwing them away, and composting, they're excited to learn alongside us!
About White Cloud
White Cloud is a paper-product brand carried exclusively at Walmart, and their GreenEarth product line features innovative, eco-friendly bath tissue and paper towels made from 100% recycled fibers. These products maintain the highest standards of quality and maintain a Forest Stewardship Council certification while still remaining affordable!
See all of the GreenEarth product options on the White Cloud GreenEarth products page.
With this new line of products, White Cloud puts green within reach. And for even more ideas visit the White Cloud Pinterest page, where you'll find green living tips and ideas!
"Living the Green" Sweepstakes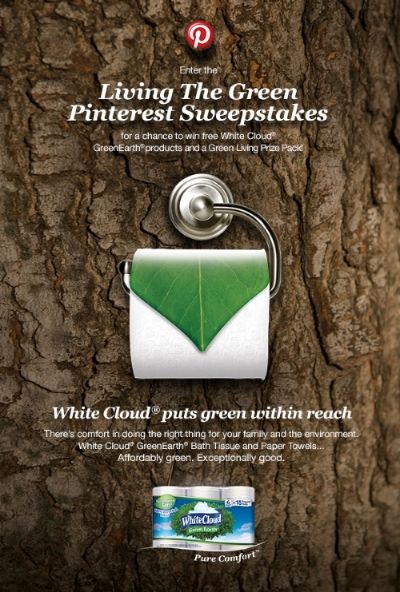 Pin it to win it with the White Cloud "Living the Green" sweepstakes! Five winners will each win a Green Living Gift Basket containing White Cloud GreenEarth Paper Towels, White Cloud GreenEarth Bath Tissue and cleaning supplies, valued at $200.
To enter:
1. Follow White Cloud on Pinterest.
2. Create your own "Living the Green" Pinterest board.
3. Repin at least one Pin from the White Cloud "Living the Green" Pinterest board to your board. Be sure to include the hashtag #LivingTheGreen in the pin's caption.
4. Visit mywhitecloud.com/promotions and complete the sweepstakes entry form.
NO PURCHASE NECESSARY. Ends 4/30/13. Click here for Official Rules. Sweepstakes Rules and Regulations.
Where do frugal and green living intersect for your family?