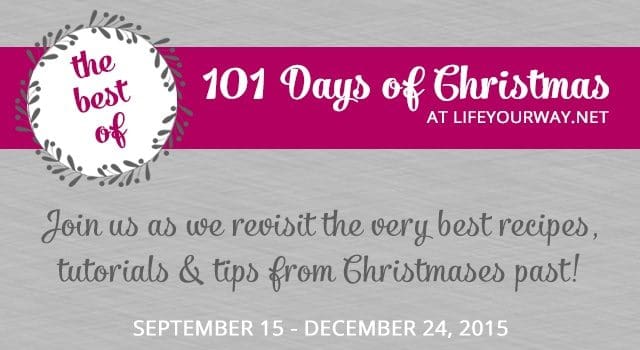 Each week I'm sharing seven of my very favorite 101 Days of Christmas projects from the archives.
When I think back to my childhood Christmases, I can picture unpacking Christmas ornaments by the warm glow of the Christmas lights and the taste of certain treats that we made every year. All of my Christmases blend together until I'm really not sure what exactly happened when, but those are the best kinds of memories, aren't they? The ones born out of love and tradition and simplicity rather than stress and hurry.
My hope for my own kids is that they'll remember Christmas as a magical time for our family each year even if they don't remember specific events. And maybe in the process they'll forget the years when things were more stressful and not quite as picture-perfect and hold on to the overall feeling of all of them bundled together!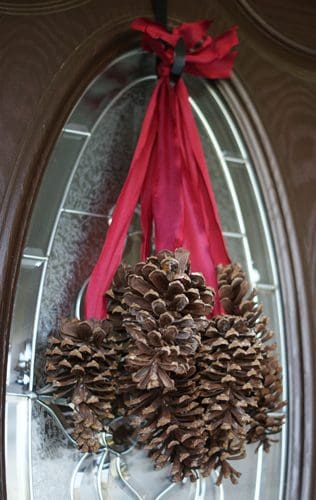 My mom made these hanging pinecones for her front door several years ago, and they remain one of my all-time favorite projects…and proof that sometimes simple really is best!
My girls ended up making dozens of these cone angels last year to decorate our home. They're simple and easy to make, and you could even add various embellishments (glitter, sequins and pompoms!) to dress them up more.
Click here for the printable and instructions.
This is one of those recipes that I'm hesitant to share with you because you might hate me for it later. This caramel corn is so good, so plan on making it and getting rid of it as quickly as possible if you don't want to end up eating it all yourself!
Madeleines—or French tea cakes—are intimidating to make, but they're well worth the effort and the special pan because they're a delicious and light treat for your cookie tins or Christmas brunch.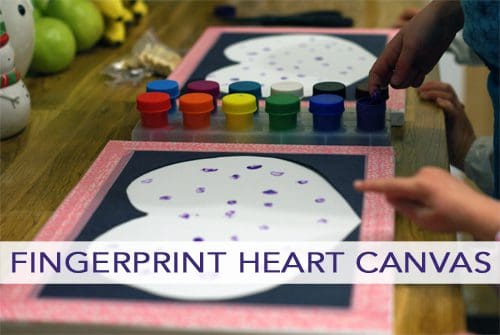 I almost wish we'd made one of these canvases for our own home instead of giving them all away as gifts because they're such a sweet gift. And what kid doesn't love a chance to play in some paint?
These ornaments are a classic and one we make every few years (I think it's about time to do it again!). With a delicious and cozy cinnamon scent and simple cookie cutter shapes, these are great for adding to your own tree or giving as gifts.
Rather than searching for individual truffle recipes, start with this basic recipe and customize it to your heart's desire!
Click here for the recipe and flavor ideas.
Enjoy!