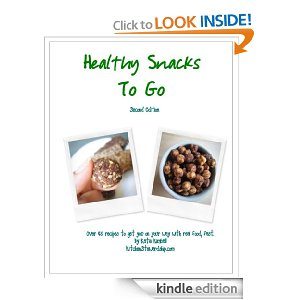 I raved about this cookbook throughout the Break the Sugar Habit Challenge this summer, and it truly has become our homemade snack handbook!
Healthy Snacks to Go includes more than 45 snack recipes, including tons of recipes for homemade Larabars (which we call laraballs because we like to shape them into bite-sized balls) as well as a variety of sweet and savory snacks, and we've loved every recipe that we've tried so far.
I've recommended this ebook at its regular price, but today only, Katie is offering the Kindle version of Healthy Snacks to Go for just $0.99 — a price you really can't beat. Get yours today!
Don't worry — even if you don't have a Kindle, you can download Kindle apps for your PC or Mac, your phone, your iPad or pretty much any other device you might have.
(The above links are affiliate links, but I'd rave about this cookbook with or without those links…it really is an amazing collection!)