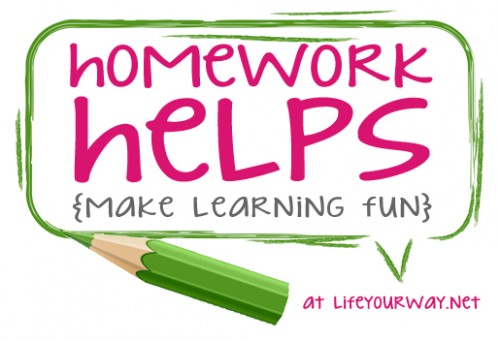 See all of the Homework Helps posts here.
Some people say that handwriting isn't important because so much of today's communication is digital. I believe teaching handwriting is important for children, and that they should be proficient at both.. A computer is not always an option and whether you're an adult or child, your handwriting needs to be legible if you want people to know what you're trying to say.
Use these hints to help your child develop better control over their penmanship:
If your child is just beginning to write, teach them the correct grip:
The pencil is held in a stable position between the thumb, index and middle fingers.
The ring and little fingers are bent and rest comfortably on the table.
The index finger and thumb form an open space.
The wrist is bent back slightly, and the forearm is resting on the table.
The pencil is held about 1-2 cm from the tip.
If writing is illegible and the pencil grip is wrong:
Note: Occupational therapists do not encourage changing a pencil grip if the writing is legible.
Consider a pencil grip.  It helps little fingers to stay in the proper position.
Or, use a permanent marker to put three dots on the place their fingers should go.
You could also try putting a rubber band on the pencil and teach them to keep their fingers above that spot.
Give positive feedback when you see your child using the correct grip.
Print a photo of proper pencil grip and have your child check theirs against the picture.
Provide lots of different media so that's it fun to practice:  chalk, crayons, and markers, then write on different surfaces:  construction paper, poster board, the sidewalk, even sandpaper.
If the child pushes too hard on the paper:
Try using a mechanical pencil.
Encourage your child to practice writing a word so lightly that they can erase it without leaving any marks.  Give them a sticker for every three words they complete successfully.
Practice writing "skinny" words, with tall, thin letters.
Use a feather dipped in paint and make shapes that require a more delicate touch.
If the child writes too lightly:
Use a larger pencil that leaves a darker line.
Practice writing with markers.
Have the child rub a crayon hard on a piece of paper to make layers of wax.  Then use a pencil to dig through the wax to write letters.
To develop muscle strength:
Play X's and O's, encouraging your child to make the marks as dark as yours.
Use tweezers to pick up small beads or raisins to transfer to a container.
Water plants with a spray bottle.
Squirt a water gun at a target.
Use finger paint on paper or shaving cream on a counter to encourage bold shapes and letters.
As with all of parenting, be patient.  Don't make handwriting a battleground.  Affirm growth and focus on the positives!
Do you think it's important to work on neatness in handwriting?  What activities have helped your child improve?
Jennifer is passionate about children and education. She homeschooled her two sons for five years, established and directed a Christian school in Maryland for 20 years, and currently teaches in a public school in a Chicago suburb. She loves investing in relationships and delights in every moment that she spends with her family.