The following post is from Kristina of Toddler Approved:
At Christmas time I am always looking for ways to connect with my kids while also having them help me with gifts for family members and friends. One simple way to get kids involved with gift-giving is to have them help create special homemade gift wrap. This week we got out some old brown paper bags, paint, cookie cutters from Flycalf, and a few other painting tools and had fun creating together while talking and laughing and making Christmas plans.
Supplies:
brown bags
cookie cutters
washable paint
pencil
scissors
ribbon
tape
Directions: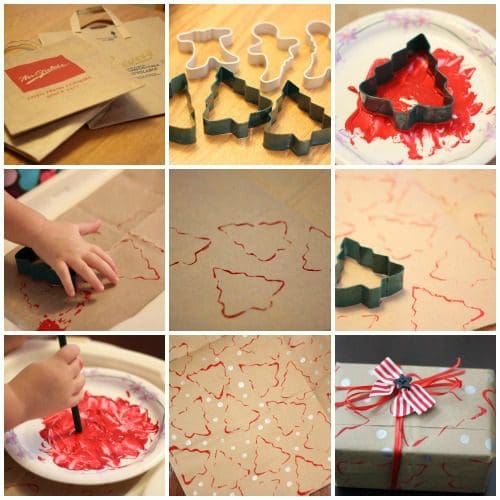 1. Cut up your paper bags and turn them over so that you don't see any designs/writing. Make sure to cut off any handles.
2. Stamp on the paper bags using cookie cutters and paint.
3. Use any other painting tools to add details to your design. We used pencils to add dots.
4. Let dry and store flat till you are ready to wrap presents!
We have a special gift wrap drawer in our garage where I am storing all of our homemade gift wraps. As we purchase presents we are wrapping them and sending them off to relatives. We may also use our gift wrap to help us create gift tags for the cookie plates we give out to neighbors. Friends and family love the personal touch that homemade gift wrap adds to the gifts that we give!
Have you made homemade gift wrap before? What tools did you use to paint with?
Related Projects:
Join us as we celebrate 101 Days of Christmas with new DIY projects, gift ideas, traditions, and more every day from now through Christmas!
Kristina Buskirk is a mom of 3 and a former Special Ed teacher for children with communication disabilities. She blogs at Toddler Approved as she looks for ways to make life a little more fun and creative with her kids while embedding learning into everything that she does.