Winter is already here! You can feel that the weather has begun to get colder, and there is a noticeable chill in the air. If your house is feeling a little drafty, it's time to start thinking about how you can make your home more comfortable during the winter months. 
No one can afford to keep their heating on all year round once the temperature drops below a specific figure, nor should you rely on this. There are other ways you can preserve heat in your home and make this winter warm and inviting when you get home.
Here are five simple ways to make your home more comfortable this winter.
Create a homey vibe with your décor
You first need to find a way to get your home in the mood for winter. An easy update can be doing something as simple as adding some cozy throw blankets or putting a few candles around them. 
Many people don't realize that decorating your home with warm colors, like brown and orange, can also make it feel cozier. Brown has been proven to have calming properties, and orange is known for its ability to catalyze one's productivity.
Another great way to get your home into the winter spirit is by investing in new decor for your living room. There are so many different types of furniture that can help make the transition from summer to winter easier. Consider either leather couches or a big woolen rug if you're looking for new pieces. Rugs are ideal for warming up cold wooden flooring and insulating rooms quickly. Make sure you clean your rugs regularly to keep them free from dust and dirt. Rug Cleaning services can offer expert cleaning for rugs to remove ground-in dirt and debris from around the home.
If you want to add more color to your home, try taking inspiration from nature and consider buying plants that will bring some green into your life during the winter.
Consider changing up your decorative items for seasonal themes, change up your photo frames and look at adding artwork to the walls too. Walls filled with decor covering them are more inviting and can add depth to a room, making it instantly feel cozier and warmer.
Make your space warm and inviting.
To make your home more comfortable during the winter months, you have to start with making it feel warm and inviting. This is a lot easier than it sounds.
One of the most important things you can do is keep your fireplace stoked if you have one. Make sure to keep a fire going in there and have plenty of firewood on hand so that you can use it whenever necessary. Once the fireplace is lit, it will help your whole room feel warmer.
Another important aspect of keeping your house warm is turning up the thermostat every day a little bit at a time. You want to set it so that it's not too cold in your house by nighttime. You don't need any temperature fluctuations throughout the day and night! A steady temperature
To continue making your home more comfortable, install weather stripping around doors and windows and the heater vents in each room. This will help seal out drafts while providing better insulation from outside temperatures. Looking at areas where you can increase insulation, using door draft excluders to block cold breezes coming under doors, and adding floor-length curtains to windows and doors can help trap heat and lower your heating bills too.
If you want to finish off this list, invest in a portable space heater for those chilly mornings or evenings when you're unable to fire up the fireplace or turn up the thermostat enough to get warm.
Use the proper lighting.
When it starts to get cold outside, you want to create a warm and cozy feeling inside your home. One idea is to add some light in the right places.
While you don't want too much light where it might be distracting, a lamp or two can help create a nice atmosphere that's inviting and relaxing. If you have an open living space, like a living room or kitchen, adding indirect lighting will make your spaces softer and less harsh.
Use string lighting in bedrooms and hallways and opt for a warm white light over a bright white light.
Add shades to ceiling lights to soften the light, and use candles for an even cozier feel to your winter home decor.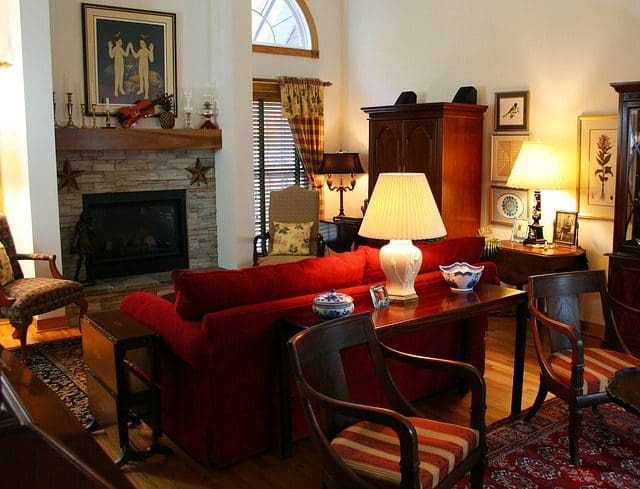 Add some color to your home.
Color is a straightforward way to make your home feel warm and cozy. You can add pops of color to your home with pillows, throws, rugs, and more. You can also add color to your walls by painting them a different shade than the rest of the room. Finally, you can use light colors in rooms that are full of dark furniture. The key to adding color is not overwhelming the room, so be sure to choose just one or two things that will bring some life into your home this winter season.
It doesn't take much time to make changes like these, and they will change how you feel about your home.
Keep it clean
No one likes to live in a dusty, dirty house. Just as you might spend an hour cleaning your car to make it presentable for company, you should spend some time doing a winter deep clean around your home. Dust, dirt, and cobwebs are unsightly and can lead to respiratory problems. Let's take the time to clean up all those dust bunnies and cobwebs so we can enjoy our warm homes this winter!
Make a checklist of all those jobs you have been meaning to do around the home, such as clearing out cupboards, organizing toy boxes, and dealing with school equipment or old clothes your kids have grown out of.
Use this time to declutter and address any minor repairs that need doing. Write the list and check things off as you complete them.
Keeping your home warm requires you to identify any changes you can make and be creative with how you address them. Simple tasks such as using more blankets, adding layers to your furniture, and flooring can all be beneficial and ensure that your heating system is working correctly and will work when required during the winter season.
Featured Photo by Pavel Danilyuk from Pexels