Close your eyes for a moment and envision the perfect Christmas scene. What do you see? This likely includes Christmas lights, a wreath, and stockings hung over the mantle. But none of this would be complete without a sparkling Christmas tree at the center (and don't forget about those gifts underneath). Can you also envision the family gathering around to decorate your Christmas tree?
But once you've bought your tree for the holidays, you're really just getting started. While there is no one way to decorate your Christmas tree, some tips, and practical guidelines will help make this process simpler and even more fun—saving you time and headaches. 
Here, we're taking a closer look at this beloved holiday icon, the Christmas tree, and offering some practical tips for helping you decorate your tree this year. No matter how you decorate your tree this holiday season, what's most important is that you get to experience it with those you care about. 
HISTORY OF THE CHRISTMAS TREE
Before diving into some tips on decorating your residential or commercial outdoor Christmas tree, you may be interested in learning a little more about this Christmas icon. Most of us have heard the story of Santa Claus or Christmas stockings, but where exactly did the Christmas tree come from? 
There are many legends and stories surrounding the origin of the Christmas tree. Some believe that Martin Luther, the man who kickstarted the Protestant Reformation, saw the pine tree as a symbol of God's goodness. Others believe that St. Boniface was the first to symbolically create the Christmas tree when he prevented a sacrifice that would take place under an oak tree by cutting down the tree and planting a fir tree in its place. However, the earliest record of a Christmas tree is from Germany in the early 14th century. A local guild decorated a tree for their Paradise Plays that occurred on Christmas Eve. 
HOW TO DECORATE YOUR CHRISTMAS TREE
Whether you opt for an artificial Christmas tree or a real one, acquiring your tree is only the first step. Once your tree is set up (don't underestimate the value of a good Christmas tree stand), creativity comes into play. But how do you know where to even start? Sure, you can learn by trial and error, but why not save some time and stress by having a plan.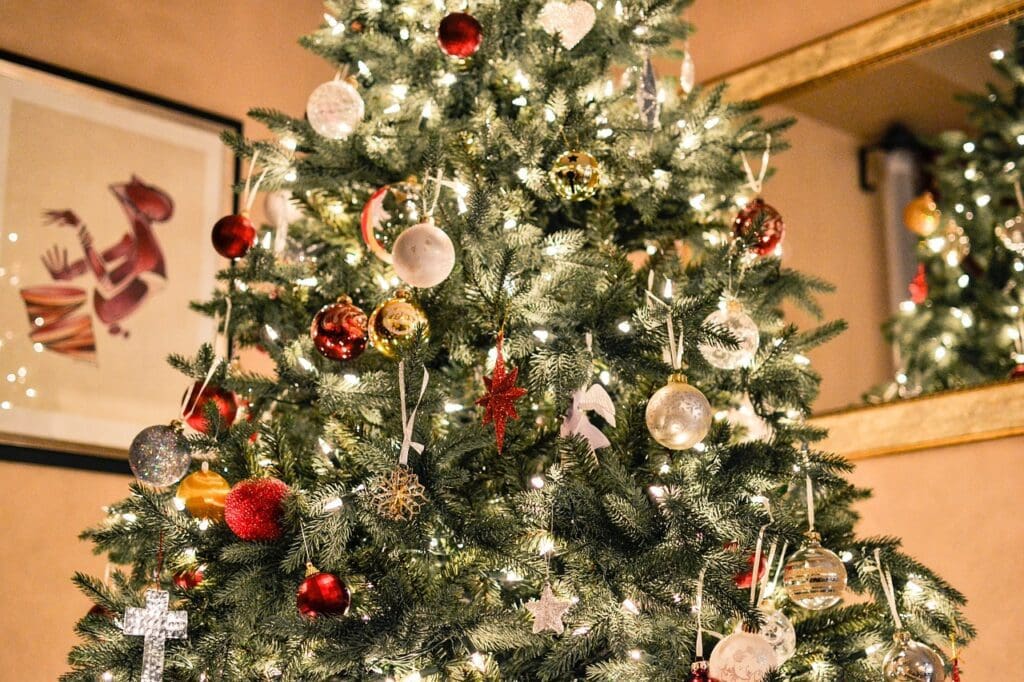 Here are some practical (and simple) tips for decorating your Christmas tree this year:
Plan out your theme

: before hanging that first ornament, it can be helpful to plan how you'll decorate your Christmas tree. Many families choose to go for a certain theme, like a winter wonderland or holiday candy theme, to give their tree a more cohesive look and feel.

 

Shaping your tree branches

: even after carefully looking over your tree, you may not notice the occasional bare patch or uneven clump of branches. But this doesn't mean you need a new tree. By shaping and fluffing up your branches, you can work to cover uneven spaces along your tree, giving it that full look. You can bend branches to even out the look and make it easier to decorate.

 

Lights go on first

: when it is time to decorate, it's a good idea to start with your lights before hanging up garland or ornaments. Positioning and spacing out your LED Christmas tree lights is much easier on a bare tree and will save you a lot of time. Start at the trunk of your tree and work your way up when wrapping the lights. As a rule of thumb, you'll need about 100 bulbs for every two feet of your tree. Thus, you'd need roughly 400 Christmas lights for an eight-foot-tall tree.

Picking the perfect decorations

: once your lights are up, it's time for the 

Christmas tree decorations

. While most families have a personal and cherished collection of Christmas ornaments, they'll want to use them. You have quite a few options when it comes to decorating your tree. Some use ribbons, bows, garlands, or candy canes to add some colorful and festive variety to your Christmas tree. Bauble sets usually include decorations of various sizes and shapes to keep things interesting for your tree display. Include some homemade decorations such as a paper chain garland.

Layering your decorations

: as you begin adding decorations to your tree, try to layer them on different branches to create a deeper, more complete look for your Christmas tree. Adding decorations on different depths of the branches not only creates a fuller display but it also allows you to use more decorations without clustering them too close together. Also, keep in mind how you're spacing out your decorations from the top all the way down to your trunk.

Don't forget the cherry on top

: once the body of your tree is decorated, it's time to top off your Christmas tree. While a star is a popular traditional option for topping your tree, you can use anything you like. Some people use ribbons, bows, snowflakes, or even a small holiday toy for a creative look. Just make sure you use a sturdy ladder when it's time to finish your tree. 
CONCLUSION – HOW TO DECORATE YOUR CHRISTMAS TREE
No holiday display would quite be complete with a Christmas tree at the center. As a popular Christmas icon, a Christmas tree will bring your display together for many years. Whether you're using LED Christmas tree lights or traditional incandescent bulbs, a properly lit tree will add the perfect holiday glow to your home this season. 
While decorating your tree should be a unique and fun activity, there are a few tips to help save you on time and help you craft a beautiful tree this holiday season. Always start with your Christmas lights and work your way up the tree. Layer your ornaments and other Christmas decorations to create a full display; working around a central theme or idea for your decorations never hurts. But when it comes down to it, the most important thing to remember is to have fun and cherish this beloved tradition. 
 Featured Image by Jill Wellington from Pixabay