Having an outdoor kitchen is usually viewed as the epitome of luxury and success. Preparing meals outside in the lovely weather while watching everyone go about having fun and enjoying themselves brings a sense of fulfillment. If cooking and eating your meals outdoors is your definition of home bliss, then you should consider having an outdoor kitchen. This article will help you design an outdoor kitchen.
When you finally decide to have an outdoor kitchen, you should note that there are several factors to take into consideration. You should determine the amount of space you need, the appliances you will need for your cooking, and the exact location for the kitchen's construction. This will help you design a long-lasting and functional kitchen.
Amount of space needed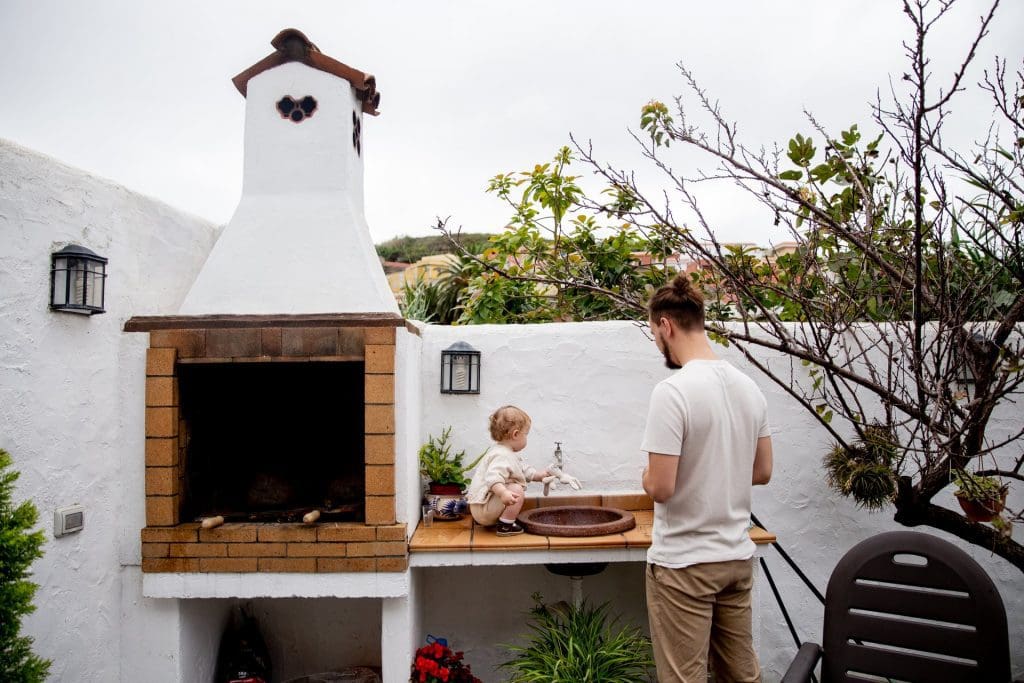 The amount of space you will need will be determined by the number of zones you will have in your outdoor kitchen. Four zones need to be incorporated during the kitchen construction to ensure that you have a fully functional kitchen. These zones include the hot zone, cold zone, wet zone, and dry zone. 
The hot zone will have a grill, gas-fired pizza oven, and side burners. The cold zone will consist of wine chillers, freezers, and refrigerators. The wet zone will have beverage tubs, while the dry zone will have the storage and prep areas. The dry zones and the hot zones are necessary for the small outdoor kitchens, while the wet and cold zones are incorporated in large outdoor kitchens.
Cost of construction
When you design an outdoor kitchen, the cost of constructing an outdoor kitchen is greatly influenced by the kitchen's location, size, type of appliances, and whether you will do it yourself or hire someone to do it for you. To reduce the cost of construction, you can locate your outdoor kitchen close to your indoor kitchen. This will eliminate the cost of setting up a prepping food station.
You can also purchase freestanding appliances as they are cheap and will give you the long-term flexibility of moving your entertainment space over time. 
Going DIY will help you save on the contracting cost. However, it is important to note that plumbing, gas lines, and electricity would require you to hire a professional.
Choosing materials
When choosing the materials needed for your outdoor kitchen, you should consider their durability and toughness. Some materials may look appealing but can easily get damaged when exposed to the outside elements. Therefore, select materials that meet both your practical and aesthetic needs.
The following are some of the best materials for outdoor kitchen countertops: 
Granite – They come in different patterns and colors and do not lose shine or discolor.

Soapstone – This is a great choice for those who need ease of use and style. These countertops are durable and do not need any maintenance.

Marble – Countertops made from marble are given a rough texture to withstand the elements of weather.

Stainless Steel – These countertops are a bit costlier than other options; they give a sleek aesthetic to your kitchen. Its metal nature makes it resistant to stains and rust.

Butcher Block – These countertops add functionality to your outdoor kitchen space. They require periodic maintenance to prevent them from being destroyed by weather elements.

Porcelain – This is becoming a top choice for outdoor kitchens to fit any style and cover a large counter space. They are durable and do not need sealing.
Type of appliances
There are various types of appliances that you will need for your outdoor kitchen; some of them include:
Refrigerator – An outdoor fridge is important as it is used for storing salads, beverages, and condiments.

Ice Maker – This one is not necessarily a must-have, but you can have it beside your fridge if you wish to. In case you do not need it, you can purchase your ice when you have a party.

Double Grill – You can purchase a double grill as it allows you to use both gas and charcoal depending on your preference at that time. It makes cooking a lot easier and faster as you can use one side to grill bread and vegetable while the other side grills meat.

Mini-Bar – The bar will make it convenient for you to mix drinks and craft cocktails.

Warming Drawer – It comes in handy when cooking large quantities of hot dogs and burgers. It allows you to keep them warm while you grill the rest of the meals.

Pizza Oven – It gives you a chance to not only make your traditional pizzas but also allows you to roast meats, cook calzones, grill seafood, or bake bread.

Blender – It allows you to make margarita, salsas, smoothies, and soups that you can enjoy with your family and guests.

Dishwasher – Used for cleaning dishes while you enjoy your time with friends.
When you are ready to design an outdoor kitchen, you should consider all the factors discussed above to achieve the perfect design to meet all your needs and preferences.
Featured Image by toddpharistx from Pixabay