The following post is from Jennifer, a lifelong educator: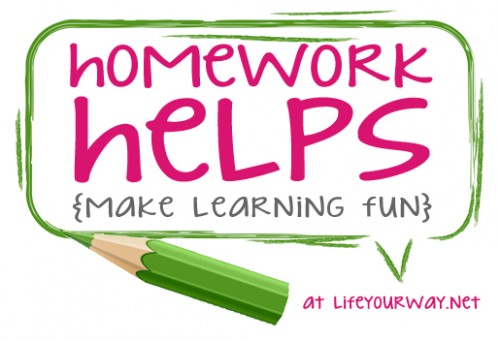 See all of the Homework Helps posts here.
Hoping your child will attend a good college?  Maybe even get a scholarship?  Don't wait until high school to help them develop strong writing skills.
Written expression is part of every classroom.  Many students either have to record their thoughts in a daily journal or respond to each reading assignment in a notebook.  Others study a style of writing, such as narrative or persuasive, and model their writing to fit the style.  No matter what the format, it's important that your child learn how to put their thoughts on paper.
Here's how to help at home:
Expose your child to different authors.  When you read together, talk about how the author made certain parts of the book come alive.  Take note of interesting word choices.  Discuss books that are hard to read, or in your child's words, "boring."  Brainstorm what the author could have done to make the book more likeable.
Many students stare at a blank page and complain that they have nothing to say.  In my classroom, I used the ideas from another teacher's blog for creating a writer's notebook. I haven't had a single student ask for help with inspiration, now that they have a wealth of ideas at their fingertips!  You don't need to be a teacher to complete this great project.
When they know what they want to write about, help your student plan so that their thoughts are cohesive and make sense.  You can download graphic organizers that are tailored to specific types of writing.  Once the organizer is complete, put it beside your child's writing papers so that they can refer to it until the assignment is complete.  Beginning writers who are too young to use an organizer can draw a picture, then write a sentence about each part.
Don't expect perfection with every piece, but teach your child how to revise.  The easiest way is to have your child read their piece aloud, or you read it to them.  Help them to choose one or two words to change that will add spark to their piece.
Keep your child's writing and have them go back to older papers to edit.  Looking for mistakes in capitalization, punctuation, etc., in older papers usually makes them more aware of grammar in their current writing.
Set the example by keeping your own journal. Then, your child sees that this isn't something you are imposing – writing can become more of a lifestyle.
How do your kids feel about writing?  What motivates them to enhance their writing skills?
Jennifer is passionate about children and education. She homeschooled her two sons for five years, established and directed a Christian school in Maryland for 20 years, and currently teaches in a public school in a Chicago suburb. She loves investing in relationships and delights in every moment that she spends with her family.