Gold has stood the test of time, tracing back through history when it comes to a popular choice to hedge fluctuations in currencies, financial turbulence, inflation, war, virtually any type of crisis. 
Today, clients typically choose the physical commodity when diversifying their portfolios, but there are many ways to invest in the precious metal aside from buying bullion or coins. Click here for guidance on investing in this precious metal.
The first step is speaking with a financial advisor to build an investment strategy before moving towards a purchase or an investment. It is wise to have specific goals designated and a plan for reaching those goals before making the actual investments. 
You do not want to put the cart before the horse. Let us look at the many ways to invest in gold to make more informed decisions.
How to Invest in Gold with Goldline and Other Established Dealers
Online trading stocks and bonds are the typical landscape for most investors, making the idea of working with physical gold a bit of a challenge in comparison. Instead of dealing with a standard broker, some dealers specialize in precious metals to help guide investors through the process. 
It is essential to ensure you find a company with experience (check the Goldline review here). Companies like this have become established in the industry over decades and have mastered the ins and outs of precious metal investment. 
A dealer can help with the purchase of physical gold plus guide you with other investment opportunities in this particular spectrum. It has three primary physical selections: jewelry, coins, or bullion. Let us look at each individually.
Jewelry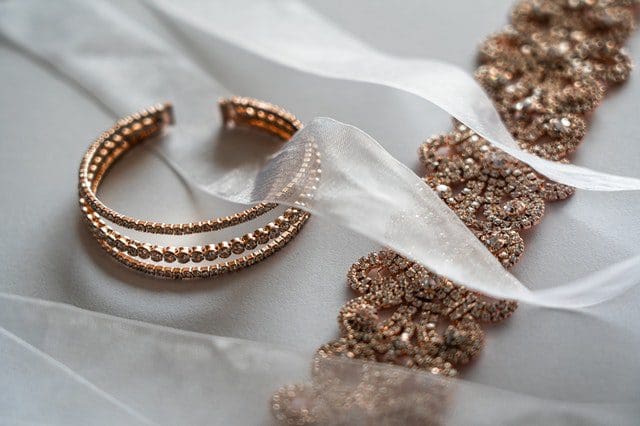 Investors have the option of buying valuable pieces that are wearable or that are heirlooms with some damage at times, perhaps worn by someone at some point. This option notes to have many risks that a client would not have with pure forms of gold. Not all dealers that sell second-hand jewelry are reputable, making it vital to research before making purchases. 
Authenticity is vital not only as an investor but if you then choose to try to sell the product to someone who recognizes that the pieces are not, in fact, authentic. That means obtaining certification and documentation with the purchase. 
You can expect to pay a markup from the raw value dependent on the jewelry designer and manufacturer, which can be as great as triple the value. Learning purity is essential. The lower the purity reduces the melt or raw value when melted into a pure product.
Coins
Half and quarter-ounce coins are an option, but the most common in this category are the one and two-ounce gold. The most readily available are Canadian Maple Leafs, South African Krugerrands, and American Gold Eagles in the collectible sector.
The indication is the price points are not always consistent with the gold content. Collectible coins with high demand will often trade with a premium, such as the American Gold Eagle one ounce at roughly $2000 retail (9/2020). The suggestion is that it shows a markup of 5% above comparable gold bullion.
You can check with local coin collectors or even pawn shops for price comparisons, but you will be taking a risk on authenticity. The recommendation is to stick with a licensed, reputable dealer for optimum safety.
Bullion
The gold shiny large bars you imagine tucked away in vaults is what many investors think of when considering purchasing the physical commodity. These come in weights as small as a few grams ranging up to as many as 400 ounces. The most readily available and popular choices begin at one ounce. 
With prices ranging in the thousands, it is an expensive investment consideration. Still, it is also a reason to use only qualified gold dealers with whom you can have delivery fees, storage, plus insurance professionally handled safely and securely.
Final Thought
Investing in gold is not limited to physical commodities, but these are the options in the physical categories. By working with a licensed, reputable, qualified, and established dealer, you can have access to a myriad of choices. Learn about making investments in this precious metal at https://www.wikihow.com/Invest-in-Gold/.
Again, it is wise to approach the dealer with your overall investment strategy to know the gold path you want to take ahead of time and where you see your goals for the future. 
A financial advisor that you trust will be your best bet for establishing the overall investment strategy and future goals, while gold dealers will lead you down the yellow brick road.
Featured Photo by Pixabay from Pexels