Your partner is the most special person in your life. Now that you're getting ready to propose, you'll need an engagement ring that complements them perfectly. If none of the rings you've seen so far have stuck out to you as "the one," you may need to go for a more creative approach. While you probably have a mental image of what a traditional engagement ring is supposed to look like, there are plenty of styles and colorways to choose from that might suit your partner and their tastes better than popular retailers' best-selling rings would.
So if you're ready to take your romantic relationship to the next level with a proposal, here are some shopping tips that will help you find a ring as unique as your partner; keep reading.
Opt for an Unconventional Stone
A diamond may be the traditional choice for an engagement ring's center stone, but you don't have to default to this standard. Selecting a different gemstone for your partner's ring can provide a distinct look and carry more significance. 
For instance, a deeper colored stone like sapphire or ruby could be striking in the center of an ornate ring when complemented by the right metal. For a soft and feminine look, try pairing pink moissanite with a rose gold band. Most people assume that diamonds are chosen for their hardness and durability, but most other precious and semi-precious stones (including these examples) will stand the test of time as well. 
Colored stones can also allow you to make more personal choices. You may want to match your partner's favorite color, their birthstone, or even the color of their eyes. Special touches like this can demonstrate how much thought and effort you put into choosing the right ring.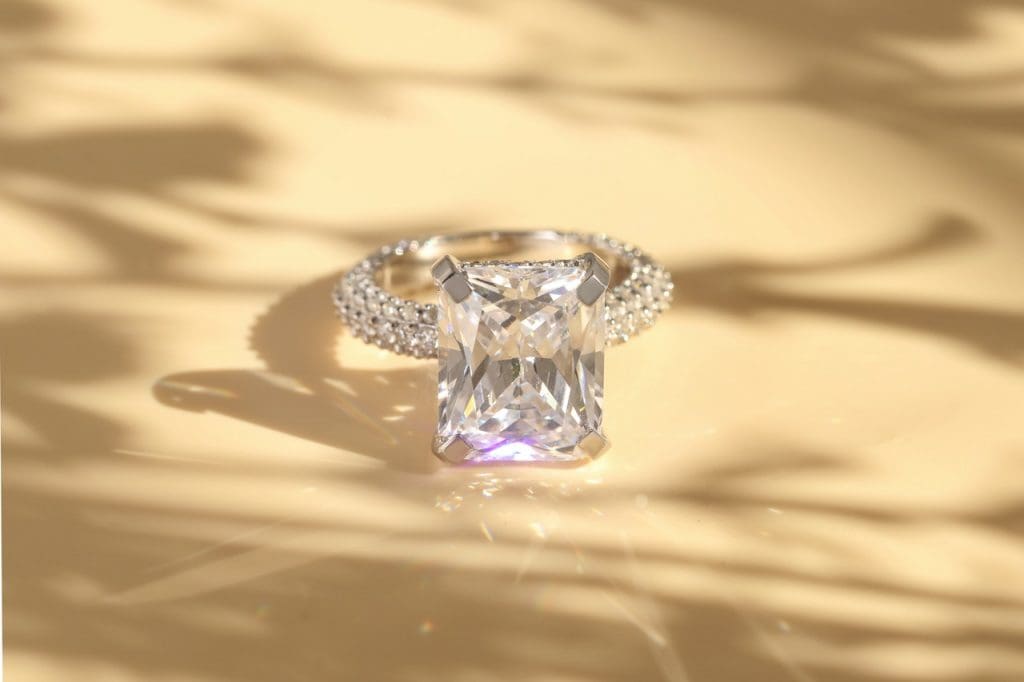 Check Out Different Cuts & Band Styles
If you've decided on a center stone, you'll need to determine what cut and style of band your partner might like best. Some stones will look best in specific cuts due to light reflection, but ultimately the style is up to you.
There are plenty of different cuts to choose from, including round, princess, oval, heart, and pear cuts for an engagement ring. You can do a little research on which cuts are popular when you purchase to make a trendy choice, or you can choose an older style for a vintage look. Each cut has its connotations and special meanings, so you can read up on those to choose with beauty and sentiment.
Bands are even more customizable. They could be straight, delicately twisted, or encrusted with sparkling gems. You can determine the right choice by considering whether your partner would like something flashy, something simple, or something in between. Some bands even have unique details like winding vines, flowers, and hearts that your partner might enjoy.
Seek a Custom Ring Designer
If you have something particular in mind that you cannot find through popular retailers or online searches, try reaching out to a custom engagement ring designer. Jewelers who offer these services can draft designs based solely on your ideas, modify existing designs to suit your needs, or even recreate a ring from an image.
This could be a great option if you know exactly what you want and feel limited by available options. For added significance, you may even be able to match a family heirloom ring or propose a replica of a ring that your partner saw in a movie and loved. The options are limitless if you choose to customize a ring instead of buying one.
If you follow these tips, you're sure to end up with a ring that your partner will love. Whether you pick a particular stone, go for a timely or vintage cut, personalize the band, or design the entire ring yourself with the help of a jeweler, the effort you've made to purchase a meaningful ring will not go unnoticed when your partner sees it for the first time! Now it is time to plan the perfect wedding.
Featured Photo by ramtin ak from Pexels