The following post is from Christina of Northern Cheapskate: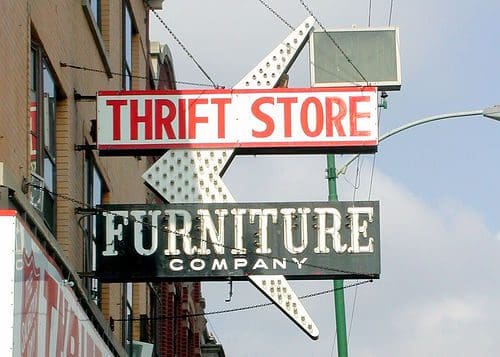 My latest trip to town resulted in the ultimate thrift store find: 6 brand new black printer cartridges for my printer for just under $18.
We print a lot of coupons and documents around our house so, saving $72 on items we use regularly was a great feeling.  I've had a lot of those great thrift store trips in my life.
I first got turned on to thrift store shopping in college.  I was a broke college student, and a friend of mine brought me to an eclectic thrift store off the beaten path.  I was thrilled to find jeans for just $7 a pair.   Once I recognized the savings potential, I began seeking out other things at thrift stores: furniture for my first apartment, household goods, Christmas decorations, and even gifts.
I also learned that as easy as it is to save money at thrift stores, it's just as easy to waste money.  Give in to impulse shopping at the thrift store, and you'll quickly clutter your home and empty your wallet.   Save yourself some time and money with these tricks:
Know what you have. Know what you need.
Before you shop anywhere, you need to have an idea of what items you already have and make a list of what items you'd like to buy.  It's pretty easy to walk into a great thrift store, become overwhelmed and then overbuy.  I like to use Evernote to save time and money by putting my lists on my phone so it's easy to keep track of what I am looking for.
Shop with cash.
Shopping with cash prohibits you from overspending.  And many thrift stores prefer it because it keeps their costs down.  Set a budget, get the cash and then shop.
Shop early.
The early birds catch the worm, and that's especially true when you shop secondhand stores. Wait to shop until the end of the day and some of the best inventory will be gone.
Shop on sale days. 
You can score some amazing deals when you shop on sale days.  Look for signs in your favorite shop or ask the clerk when the next sale is.
Get to know the sales staff.
The staff at your local thrift store is a great resource for potential savings.  They can help you find what you're looking for and alert you to sales.  If you're a regular customer, you may even be able to get them to drop the price on an item that's been there a while or ask them to keep an eye out for a particular item.
Ask about rewards programs.
Several thrift stores in my area have a frequent shopper punch card.  When you fill the card, you get $5 off your next purchase. Sign up for any rewards programs your store offers and save even more.
Explore thrift stores all over town.
Make it a habit to explore lots of different thrift stores.  The inventory in these stores can vary dramatically from neighborhood to neighborhood.  In addition, some local department stores often donate their unsold inventory to be sold at thrift stores. If you find a thrift store like that in your neighborhood,  you could score brand new name brand clothing for a fraction of the cost.  Sites like The Thrift Shopper can help you locate stores in your area.
Consider shopping to make money.
I probably would have bought those ink cartridges even if they weren't the right ones for my printer. Why?  Because I could have sold them on eBay or Craigslist for a profit.   A skilled thrift store shopper can turn big savings into a money-maker with a little effort.
Finding an awesome deal at a thrift store is great.  It's also a great feeling to know that when you shop at thrift stores, you're helping extend the life of things by keeping them from going to the landfill.
Waste not, want not is something we all could do more of.
 How do you save money at thrift stores?

Featured Image by Olivia Gonzalez from Pixabay
Christina Brown is the creator of Northern Cheapskate, a blog dedicated to frugal living through coupons, freebies, and money-saving ideas. She lives in the rural north woods of Minnesota where she clips coupons, pinches pennies, and chases her three boys (a 7-year-old and twin 5-year olds) as a stay-at-home mom.